More donations come into NEMA!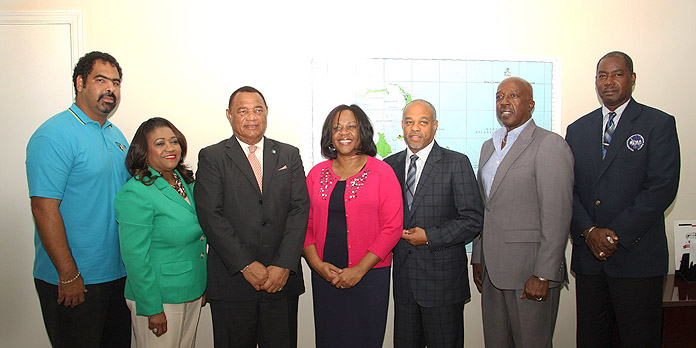 NASSAU, The Bahamas – First Baptist Church in Upper Marlboro, Maryland, donated $25,000 towards the Hurricane Matthew recovery efforts, during a presentation at the National Emergency Management Agency, NEMA on Thursday, November 17, 2016.
On hand for the presentation was the Rt. Hon. Perry Christie, Prime Minister who thanked the church, headed by Pastor John Jenkins Sr. for the donation. He noted the effects of Climate Change on low-lying countries in the region such as The Bahamas. "The reality is, we are faced with continuing challenges as an archipelagic nation," the Prime Minister said.
Also present were the Hon. Shane Gibson, Minister responsible for Recovery and Restoration; Captain Stephen Russell, Director, NEMA; Gowon Bowe of the disaster relief fund committee, responsible for accounting and fund raising; Dwight Armbrister, Director of Religious Tourism; Gabrielle Archer, Area Manager, Bahamas Minister of Tourism, Washington D.C; Sherry Miller, Manager Religious Tourism and Francenia Clarke, Executive Officer.
The presentation was arranged by Paulette Zonicle, The Bahamas Consul General to Washington, who is also a member of First Baptist and traveled home to assist in facilitating the hand over. As the pastor was traveling to The Bahamas for several preaching engagements, it was fitting to make the presentation at the same time.
Rev. Jenkins said it was an honour to visit The Bahamas because "We love the people of The Bahamas and we feel sad about any challenges Bahamians are facing."
Rev. Jenkins was accompanied by his wife, Trina Jenkins, as well as Sonji Joyner, Director of Marketing and PR, First Baptist Church; and Steven Herd, Director Music Ministry, First Baptist Church.