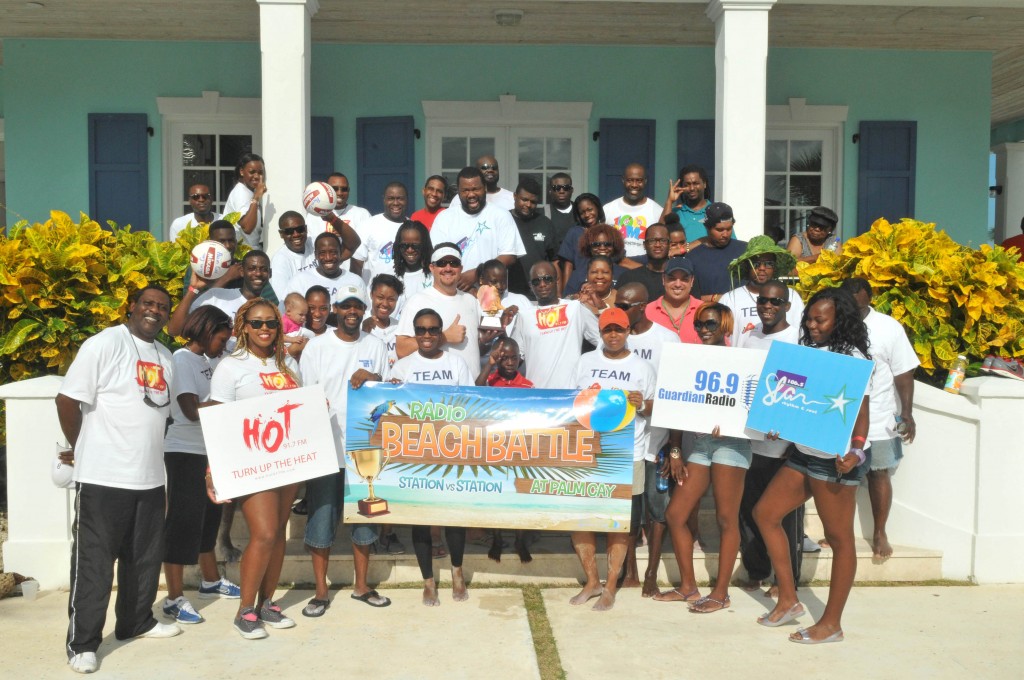 Which radio station is the best? When it comes to beach games this year, Guardian Media came out on top during the first-ever Radio Beach Battle held at and sponsored by Palm Cay. The $200 million beachfront community on Nassau's southeastern shore hosted the fun-filled tournament exclusively for the radio industry. Competition was intense, as radio personalities went from disc jockeys to sports jockeys, fiercely participating in a variety of games like tug-o-war, beach volleyball and relay races.
"The idea for the event occurred to us when a local DJ stated on-air that Palm Cay didn't have a beach," said Sales & Marketing Director Zachary 'Zack' Bonczek. "Our development touts one of the best beaches on the eastern side of the island, so we knew we had an opportunity to share this with the radio industry in a very unique way. We invited the best of the best in the radio industry – every station here – to play on one of the best beaches New Providence has to offer. We're happy the response was so enthusiastic and we're looking forward to a powerful rivalry next year."
Guardian Media took home the coveted champion's trophy with a total of 225 points, LOVE-97 (Jones Communications) came second with 190 points, ZSR Sports Radio came third with 185 points and Tribune Radio took the fourth place position with a total of 180 points. Represented stations in the novel event included: STAR-106, TALK Radio, HOT-91, COOL-96, 100-JAMZ, JOY-101, Y-98, ZSR Sports Radio and LOVE-97.
With more than 300 single family home sites, seafront townhomes, newly introduced one and two-storey condos, and a 194-slip marina, the beachfront tropical style development is focusing on building a community. Plans call for a complete build-out by 2017.