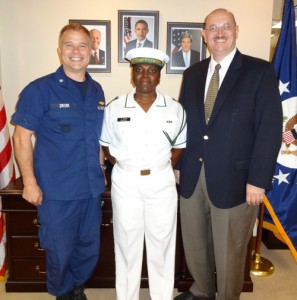 Leading Woman Marine (LWM) Deann Davis paid a courtesy call to U.S. Chargé d'Affaires John Dinkelman on June 28, where she shared her experience "underway" as the first female ship rider from the Royal Bahamas Defence Force (RBDF).  LWM Davis began her tour aboard the U.S. Coast Guard Cutter Resolute and the U.S. Coast Guard Cutter Northland in late May, and remained on patrol with the crews for several weeks.
LWM Davis capitalized on her 22 years of experience with the RBDF to make her participation as the first female "ship-rider" with the U.S. Coast Guard a great success. Her U.S. Coast Guard colleagues described LWM Davis as "a valuable member of the intelligence teams" on both cutters.  During her visit with Chargé Dinkelman, Davis expressed her hope that her participation might open the door for other female RBDF officers to serve as ship riders in the future.  The Chargé praised Davis' "can do" attitude, suggesting that her determination and accomplishments will undoubtedly serve as an inspiration to young Bahamian girls throughout the archipelago.
Bahamian RBDF ship riders have accompanied U.S. vessels in The Bahamas since 1996. This partnership was further solidified in 2004 with the signing of the U.S. – Bahamas Comprehensive Maritime Agreement (CMA).  The daily joint RBDF/USCG patrols throughout The Bahamas' archipelago focus on search and rescue, migrant interdiction, combating the flow of illegal contraband and other maritime law enforcement matters. The ship rider program provides for RBDF officers ride on USCG cutters, and serves as an excellent example of the successful bilateral partnership to ensure the enforcement of laws inside Bahamian territories.