TV is now where its has never went before in the Bahamas thanks to BTC!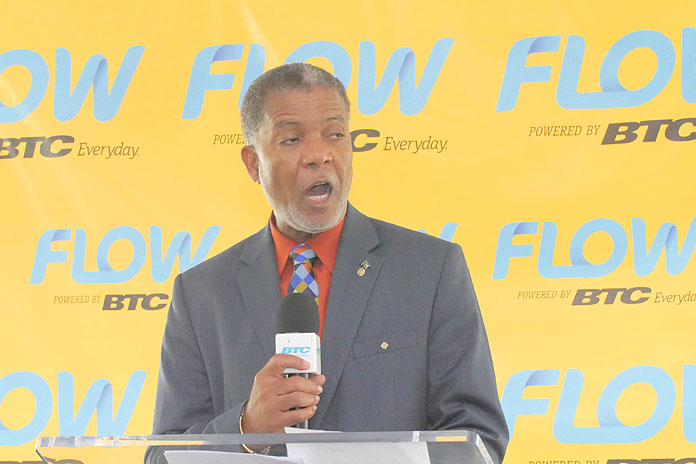 MATTHEW TOWN, INAGUA……The Bahamas Telecommunications Company Limited is continuing its quest towards a Connected Bahamas as FLOW TV has reached the shores of Inagua, the southernmost island in the archipelago.
Inagua is the home of over nine hundred residents, some of whom have never had television service. They have been agitating the cable provider for many years to have the service installed in their various locations throughout the island to no avail. Some of the residents were happy to say that now that BTC's FLOW TV is a reality, they no longer have to concern themselves with purchasing DVDs for personal entertainment.
The pent-up frustration was unleashed by a retired Plant Operator at Morton Salt Edmund Harris who shared that as soon as BTC has its FLOW TV fully operational, "there will be no Cable Bahamas TV customers on Inagua." He made this bold prediction while heaping high praises on the company that firmly believes that it is equally important to provide services nationally, to all islands and not just where it is economically feasible to do so. Many Inagua residents were denied Cable TV because it was not deemed profitable.
Edmund Harris was among the pioneers selected by BTC to test its new FLOW TV service. Forty-nine consumers were recently surveyed in the Inagua TV Users Feedback. They were asked to give their impressions on their FLOW TV service so far using a scale of zero to 10, where zero was not at all satisfied and 10 was extremely satisfied and 93% (ninety-three percent) of the respondents said they were extremely satisfied with FLOW TV thus far.
On the question of how likely the customers are to recommend FLOW TV, 76% (seventy-six percent) said they had no hesitation in recommending the service to others. Customers were also asked on a scale of one to 10 about their overall rating of FLOW TV, including channel selection and picture quality. There was a 92% (ninety-two percent) overall rating of FLOW TV in Inagua.
Awakened from a deep and peaceful midday siesta, Harris who resides on Nesbitt Street in the heart of Matthew Town, was quick to express his frustration and similar experiences with the cable service over a number of years by several other BTC converts. He said "there are still some pockets of the settlement which were refused Cable TV because of the small population," adding that "to be honest with you, most of the time, many of the cable channels were off and it was very frustrating." Harris stated that "FLOW TV is pretty good and much better than cable."
Henry Nixon is a Park Warden for the Bahamas National Trust, who helps to oversee some 80,000 West Indian Flamingoes and protects the reputation of Inagua as the birdwatching capital of the Bahamas and a great destination for ecotourism. He was caught listening to the afternoon newscast on a local radio station out of New Providence on a FLOW TV channel, a service that was not previously available. "Right now I'm listening to the radio news on television. This is a great service," he said. "I find the FLOW TV pretty good compared to cable because it offers more educational channels for the children. And the picture is a lot better." Nixon said he was a customer with Cable Bahamas from they started in Inagua but he has switched to BTC noting that "a lot more people are switching because they are fed up with cable." He said during the early part of last year half of the southern part of the island was without cable service for weeks and no-one came to fix the problem. Nixon, who also serves as a Police reservist was happy to report that "I now have a lot of channels and on a scale of one to ten, I rate BTC Flow TV at eight."
Christopher Pinder, is yet another native of Inagua who was trying for years to get cable service but could not get it. A Police Officer, Pinder now resides in a new subdivision called Fun City, which is just north of the Airport. He was delighted to be one of the testers for three months last year. "FLOW TV is a good service. In fact I am watching wild life on National Geographic channel right now. It is clear and in high definition. They are doing a good job trying to get a lot of residents signed up and I believe they are getting a real good response," he said. Pinder added that he tried to get cable for many years. "My only entertainment was DVDs, so it's a great change."
Another resident of Inagua, Cynthia Harris, the owner of Brensville Suites Motel said she has been agitating Cable Bahamas for their service since 2008 and she was refused because there was not enough people in the area where she resides and operates her business on Gregory Street north. She said it was not until two weeks after BTC Technicians were in Inagua to begin installation for FLOW TV beta testing that Cable technicians came in to offer their service. "Cable Bahamas took my deposit since 2008 after hurricane Ike and nothing happened for years. Now that BTC has offered us this new TV service, they showed up to say they were ready to get us connected." She said she was "totally satisfied with BTC FLOW TV, it looks good and clear, I have no complaints. Just keep it on," said Ms. Cynthia Harris.
While the overwhelming majority of the residents of Inagua are pleased with the quality of FLOW TV, there was one particular customer, Park Warden Nixon who was elated with the sound of music on radio stations of the Bahamas as a part of the service. "There is one thing I couldn't do with cable that BTC Flow TV is providing," he said. "Thanks to BTC Flow TV, you could now lay down in bed and listen to love music with your love one all night long."