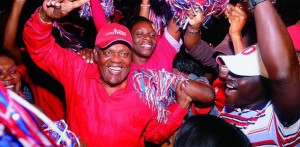 Hubert Ingraham Lied to the People of North Andros!
Nassau, Bahamas – Financial woes are not just in Europe, but have hit the FNM like a hurricane. A youthful campaign working for the FNM is crying foul and has come to Bahamas Press with her complaint.
The teenage woman said to us, "I been had. Hoodwinked! Bamboozled! Run-amok! And LIED TO! Cause in the FNM they don't pay!"
The single mother told BP how she left the PLP as she was coached to leave and was promised a job by the government.
Sources in the OPM have told us the FNM Government hired workers on the payroll amounting to some $50 million dollars when only $24 million was budgeted for Job Readiness.
In fact, another young woman told us, she was given a letter from the Ministry of Finance by Laing's department, which approved her for the Jumpstart Program.
She said, "They never paid my expenses for the startup of the business. All I got with the former government was the runaround. I got one letter but no funding. I don't know what they were doing with that program? Just fooling Bahamians! It was clearly a flam and a sham for the general election!"
Meanwhile, the young woman, who worked 11 hours a day knocking on doors, wants her money. "I want the FNM to pay me what they owe me or I will make a scene at that one day event this week coming.
"Why treat young people this way and then lie to us suggesting you are for us? I worked my hip off getting cuss out for the Party and now I cannot get my money? I WANT MY MONEY!"
Sources deep in the FNM tell us the party is in crisis and Papa Clown has packed up his tent and fled.
We have learnt the FNM is in a huge debt; More than $6 million dollars OF UNPAID BILLS – with invoices still coming in.
Look how Papa has left the FNM – Just how he met it!
We report yinner decide!