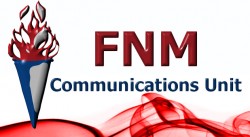 PLP Gives The Bahamas the Blues
Thursday December 16th, 2010
PRESS STATEMENT: Despite promising hope and help, the PLP set the country back during their term in office from 2002 to 2007. In significant ways they proved as devastating as the worldwide economic downturn which hit The Bahamas beginning in 2008.
Instead of protecting our national interests, the PLP wrecked one public corporation, BEC, and connived to nearly destroy another, BTC.
Within a few short years, they took a profitable electricity company and ran it into the ground. BEC is now borrowing to pay its fuel bills because of their recklessness, poor management and disastrous decisions.
With BTC, the PLP was about to embark on a course of action which would have given the country, the Bahamian Blues by selling the telecommunications company to a dubious entity with unknown beneficiaries.
Now that their Bluewater misadventure is being exposed to the light of day, they are running around attempting to redirect the public's attention from their near destruction of another Bahamian asset. Under the PLP, BTC would have been stripped of those assets and its future by the Bluewater scheme.
More than $120 million of BTC's funds would have gone to the special hidden and smudgy interests involved in Bluewater. Under the FNM those funds will go to the Public Treasury for the benefit of the Bahamian people.
Not only was Bluewater going to be exempt from paying $7 million in stamp taxes, it was also not going to be properly regulated because the PLP did not put the legislation and regulatory framework in place to oversee a liberalized telecommunications sector. One can only imagine whose interests this would have served.
The same PLP which treated various state corporations like ZNS and Bahamasair with contempt, including continuing to owe them money, also nearly destroyed within a single disastrous term, state corporations that have served the Bahamian people for decades.
Thankfully, the FNM is turning not only lemons into lemonade. The Ingraham administration is also changing the tune set by the PLP from the Blues into rejoicing that The Bahamas is back on track. The country is becoming a whole new world from telecommunications to tourism to a modernizing government to social advancement and dramatically improved transportation networks.