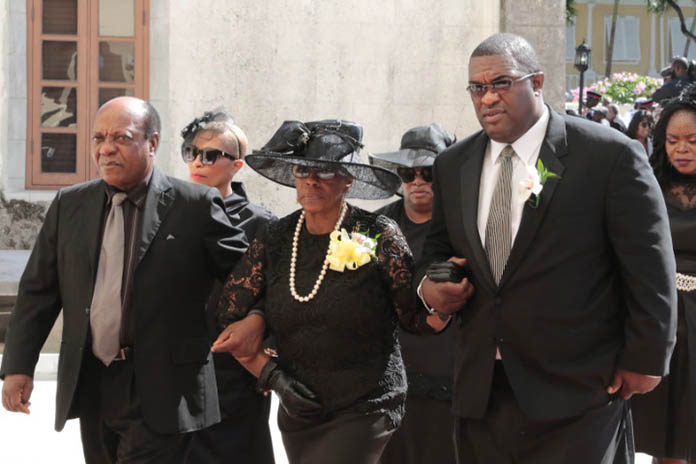 Nassau, The Bahamas – Former Cabinet Minister and Parliamentarian, Mr. Bradley Bernard Emmanuel Roberts was laid to rest in an Official Ceremony on Friday, November 9, 2018 at St. Francis Xavier Cathedral, West Street. Paying respects were family members, friends, colleagues, former constituents and government officials.
In attendance were: Governor General Her Excellency the Most Hon. Dame Marguerite Pindling, Prime Minister the Most Hon. Hubert A. Minnis, and Leader of the Opposition the Hon. Philip Davis.
Officiating the funeral service was Father Glen Nixon.
Mr. Roberts was born on 25th December, 1943 in Bain Town, New Providence. He was active for several decades in frontline Bahamian politics, and was MP for Grants Town for 25 consecutive years. As a prominent and successful businessman, Mr. Roberts was one of the founding members of Sunshine Holdings Group, which started many business ventures including, Arawak Homes Limited, FOCOL, Eleuthera Properties Ltd., Jack's Bay, and Sunshine Insurance.
Affectionately called 'Big Bad Brad,' a term coined by radio personality, Steve McKinney — Mr. Roberts, also as former Chairman of the Progressive Liberal Party, was known as a fierce political voice in Bahamian politics. Over the years he served effectively in a number official capacities.
Mr. Roberts was a world traveler and an amateur genealogist. He was a leading lay member of the Roman Catholic Church, and a lifelong parishioner at St. Francis Xavier Cathedral. Mr. Roberts was married to his wife of 53 years, Hartlyn; their children are: Nicole, Michelle and Obie. (BIS Photos/Derek Smith)