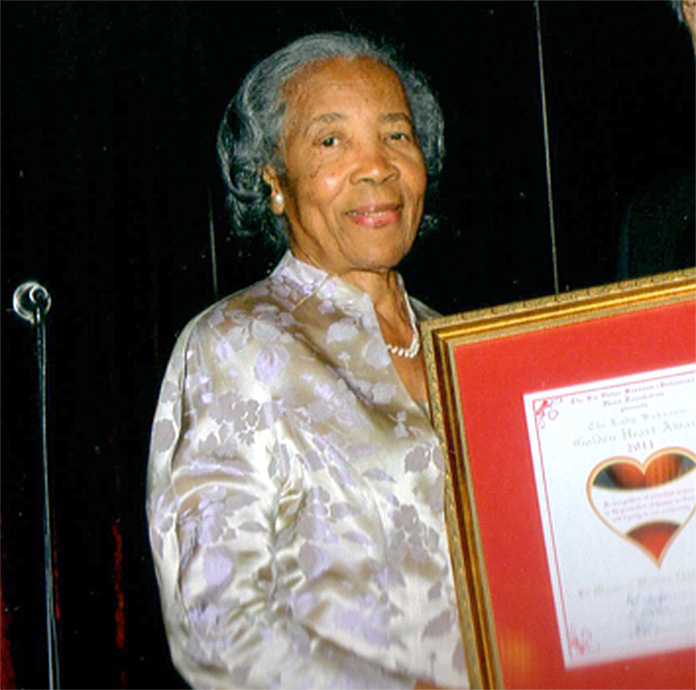 NASSAU| Information coming right now into Bahamas Press confirms the passing of a trailblazer in Education who rose to the ranks as Director of Education Dame Marjorie Winton Theresa Davis – who was honoured by Pope Francis as Dame of the Pontifical Equestrian Order of St Sylvester in 2019.
Dame Davis passed away quietly Tuesday (March 28th) evening following a stellar career in the field of education. Her long career displayed her strong Christian values as an exemplary Catholic and outstanding Bahamian.
She rose to the rank of Director of Education in the Ministry of Education before retiring in 1988. She is also a long-standing parishioner of St Francis Xavier Cathedral on West Street.
Ms Davis,94, who, was born the second of 12 children to Sir Cyrus Ulysses and Hilda Davis on November 2, 1928, began her career in education as a teacher at Government High School, where she had previously been a student, obtaining a Grade 1 Senior Cambridge Certificate.
Following her high school career she attended the University of Toronto, obtaining a Bachelor of Arts degree in General Studies. In 1950 she obtained her Teacher's Certificate from the Ontario College of Education. She proceeded to teach Latin as well as Spanish, Mathematics, Accounts/Bookkeeping, Commerce and Religious Studies.
For 19 years Ms Davis was a teacher at Government High School and was also the Girl Guides leader at the school (the 3rd Nassau Company).In 1970, Ms Davis was appointed Assistant Commissioner for the Girl Guides Central District and eventually Chief Commissioner in 1993. She has been a member of Girl Guides for over 66 years.
In 1965, she received an Advanced Diploma in Education from the University of Hull in England and continued her education further in 1969 when she completed her Master of Education degree with a major in Guidance and Counselling from the Ontario Institute for Studies in Education.
In 1970, she returned home where she joined the Ministry of Education as an education officer, being appointed senior education officer in charge of Guidance and Counselling. Subsequently, Ms Davis was promoted to assistant director in charge of Pupil Personnel Services, then she became the newly created senior assistant director with responsibility for all support services. In 1977, she became the first female Director of Education. In 1988, she accepted a contract to co-ordinate the introduction of the Bahamas General Certificate of Secondary Education (BGCSE), and five years later retired from the public service.
Then a year later she was awarded the honour of Officer of the British Empire in the Queen's New Year's Honour Awards.
On April 16th 2015, the then-Christie Government opened and named the Marjorie Davis Institute for Special Education led by then-Minister for Education Jerome Fitzgerald.
As a charter member of the Zonta Club of Nassau she has been involved in numerous projects through the years. These included the after-school programmes at the Ranfurly Home for Children and was active in the PACE programme for unwed mothers. She has also been active with health and HIV/AIDS projects.
As a very active member of St Francis Xavier's Cathedral, for many years, she taught young members under the Confraternity of Christian Doctrine programme.
She has also been a long-time member of the Legion of Mary, a group who visit the sick and shut-ins regularly.
For her work and broad national contribution to nation building with at Bahamas Press offer our prayers to the Father whom she loved, worshipped and adored these many years.
To HIM Be All GLORY AND PRAISE for a life that has left an indelible print on the sands of the Bahamas.
May the angels lead you into paradise; may the martyrs come to welcome you and take you to the holy city, the new and eternal Jerusalem.
May her soul rest in peace. Amen!