Ingraham hails former Francis as one of the country's "notable sons"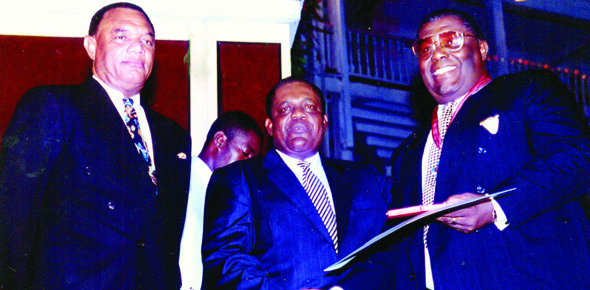 Nassau, Bahamas — FORMER Prime Minister Hubert Ingraham offered his condolences to the family of the late Kenneth Francis, calling the former newspaper publisher one of the country's "notable sons".
"I was saddened to learn of the passing of Kenneth 'Six' Francis, former Publisher of the Nassau Guardian," Mr Ingraham said. "On my behalf of myself and that of my wife Delores, I extend heartfelt condolences to his wife Stephanie, his children and to the extended Francis family.
"With Ken Francis' passing, the Bahamas has lost another of its notable sons, who in their own way contributed so meaningfully to nation-building," he said.
As a newspaper publisher, Mr Ingraham said, Mr Francis demonstrated a keen understanding of the role of the free press in a parliamentary democracy.
"We did not always share political views or party affiliation. But I remember well the fairness with which the Nassau Guardian, under his leadership, dealt with my party as the official opposition prior to August 1992 and as government in the decade following our election to office," Mr Ingraham said.
"Over the course of his career in publishing, Ken Francis earned the respect of both his colleagues and the wider community.
"His contribution was also felt in the sporting world where he was a pioneer in making golf available to a more Bahamians in terms of both players and a larger viewing audience.
"I join many other Bahamians in expressing appreciation for the life and contributions of Kenneth Francis. May he rest in peace.
Mr Francis died in hospital early Friday morning at the age of 82.
He was born in Nassau on May 15, 1930 in the Fort Fincastle area.
Known as an accomplished musician and sportsman, he represented the Bahamas several times as part of the National Cricket Team.
Mr Francis was also instrumental in opening the sport of golf to Bahamians of all races, and served as president of the Bahamas Golf Federation.
He was named Commander of the British Empire (CBE).