Andre Rollins is a FAILURE – and like LAING has kicked the people of Fort Charlotte!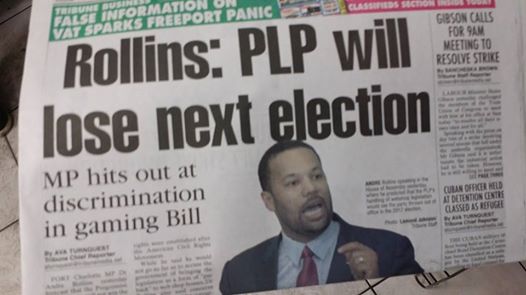 …Andre Rollins will LOSE HIS SEAT!

WUTLESS MP's branch Light and Water off because he refuses to pay with the $1,500 collected in salary!

Nassau, Bahamas — HA!!! What a JOKE – ROLLINS AND THE DUTTY TERLET PAPER NOW IN BED TOGETHER – BUT THAT ISN'T STRANGE!

Now we know this fella is drinking from the well of Simon Front Porch [THERESA BUTLER]! He is now saying the same things said by some radical PLPs in the early 1980s.

That same radical group told Lynden Pindling he will be topple in 1982 – Pindling stayed in power for another 10 years. And they? Well, they [THAT RADICAL GROUP IN THE PLP] were never elected ever again!

We have some words for Andre Rollins – Tell ya PAPA there is no chance he and Duane Sands can win the Leadership of the FNM nor will he ever be head of the country again……!

BP has already selected the 2017 GOLD RUSH campaign music and when it starts Andre Rollins will not be in Fort Charlotte…..[WRITE IT DOWN!]!
We report yinner decide!