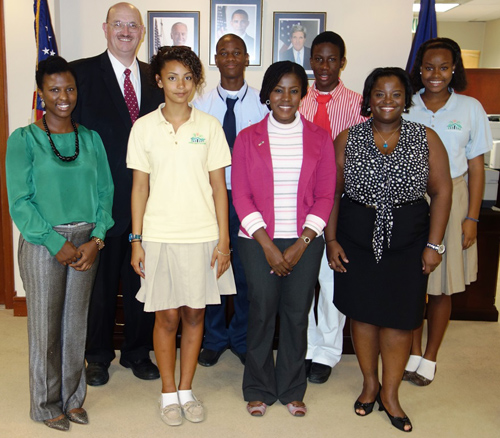 On Thursday, January 9, the United States Embassy formally announced the students and chaperone representing Abaco Island who will travel to Denver, Colorado and Washington, D.C. from February 2-25, 2014, to participate in the U.S. Embassy's third Youth Ambassadors exchange program.  The students were selected based on their strong leadership skills and a commitment to community service.  During the three-week exchange, the Bahamian youth leaders will join students from throughout the Caribbean in two U.S. cities for hands-on community-based activities.
The students' exciting one-day visit to Nassau included a courtesy call on U.S. Chargé d'Affaires John Dinkelman and briefings with the Embassy's Public Affairs staff. During the meeting with the Chargé, the students discussed the upcoming program and issues facing youth in The Bahamas.  The four youth leaders who were selected for the third U.S. Embassy Youth Ambassador Program are: Kandise Kelly and Catalina Albury, both students at Forest Heights Academy, Berthony McDermott from S.C. Bootle High School and Conrad Cornish, who will represent Abaco Central High School.  The students will be accompanied by Kimberly Rahming of the Ministry of Education who will serve as the group's chaperone and act as a mentor to the students upon their return to The Bahamas.
The Youth Ambassadors Program brings talented high school students to the United States to promote mutual understanding, increase their leadership skills, and prepare participants to make a difference in their home communities by becoming active and engaged citizens through service.  Twenty-five countries throughout the Caribbean and Latin America currently participate in the program.  U.S. Embassy Nassau has coordinated three Youth Ambassadors Programs for 2013/14 with students previously selected from New Providence and Grand Bahama to participate in the youth leadership exchange.