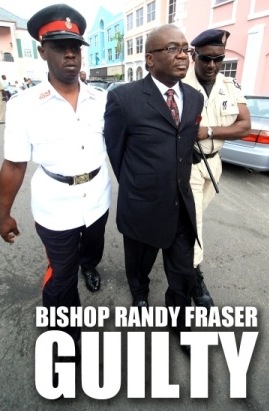 Nassau, Bahamas — Fox Hill Prison is set to have a revival this week, and for the next couple of years, as its newest inmate is a member of the Full Gospel Baptist Association and a Bishop of Pilgrim Baptist Cathedral on St. James Road.
The newest inmate was a member of the Child Protection Board and a former schoolteacher. Some believe he has had many victims over his long career and that three years is the 'big house' was like a sentence sent from the throne on high.
In the courtroom there was no visible pastoral support. Outside the court the people were praising God! And at the offices of BP we were playing Handel's Hallelujah.

Bishop E. Randy Fraser's sex-beast actions against a young underage dependent was the kind of exposé no one from the Church wished to experience. Imagine preaching sermon after sermon, telling the young men and woman in the St. James Road community to, "Stop engaging in sex outside a marriage." And further on some nights the Bishop and Mrs. Fraser were sweating it out on the altar, The HOLY PLACE, desecrating a most consecrated place on the earth. [We cannot get the very thought out of our head!]
Magistrate Carolita Bethel was right when she noted in her judgment that Fraser abused his trust. For the members of Pilgrim Baptist he abused his trust as the spiritual Shepard of that Church Family. During the time of the incident Fraser was the Bishop for the Bahamas in the international Full Gospel organization, and therefore knew he represented an even larger Christian body of believers.
He abused the trust he pledged in his marital vows before God with his wife, by luring young innocents into his connubial bed to engage in the most unthinkable acts with a minor.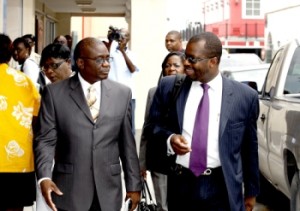 Further trust was broken in his covenant with his God! With the pouring of holy oils and the laying on of hands, the fact that Fraser somehow forgot his office as a Levi in the community and the oaths associated therewith in his ascension as a minister of the gospel also weighed heavily in the judgment made upon him on Tuesday.
Fraser was the second member of the cloth in two weeks to feel the weight of Justice for sexual crimes. That thought alone is chilling and tells us that, as a society, something has gone terribly wrong.
In this though there is still room for pardon, forgiveness, confession and absolution. We believe Randy Fraser is truly a blessed man. He is down today, NOT OUT! Mercy has sheltered him for three years in quiet reflection and given him time to search out his own soul's salvation. NO ONE IS ABOVE THE LAW!
For all have sinned and fallen short of God's true standards. Love the person but HATE THE SIN!
We report…YINNER DECIDE!