Good leadership at BEC is delivering lower bills and better maintenance at the Corporation…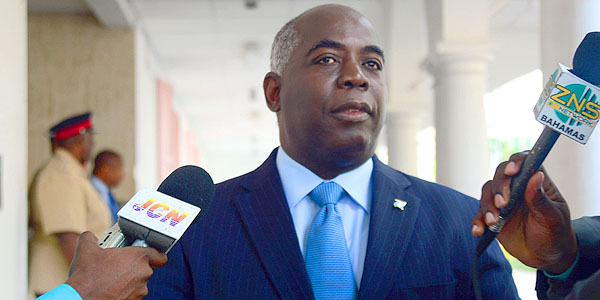 Mama Dem light bills will continue to go down under a Caring Government who fights for the poor!
Nassau, Bahamas – There was much rejoicing in the Parliament last week when Deputy Prime Minister and Minister for Works and Urban Development Philip Brave Davis announced that electricity bills are set to go down even further in March.
You would remember how Mr. Davis ordered that thousands of consumers be placed back on the grid after they were uncaringly shut off and left in darkness under the Hubert Ingraham government. High electricity bills also placed scores of businesses out of business during that same period. Mr. Davis also told consumers last year that they should expect a gradual reduction in the bills as better management plans were underway at BEC!
Turning the corner and moving the Bahamas back in the right direction, Mr. Christie's Viceroy and MP for Cat Island, Rum Cay and San Salvador announced in the House last week, "We have good news from the Corporation, and each of us should be feeling the effect pocket-wise. Reduced fuel prices on the international market has driven the Fuel Surcharge down from 27.7 cents per kWh in October 2014 to 22 cents per kWh in February 2015, savings of 20.6%. The Corporation advises that we should see a further reduction at the end March 2015."
The news by Minister Davis was welcomed after long and steady climbs of electricity bills were felt hardest under the Ingraham Regime where more than 6,000 customers were thrown offline and into darkness by BEC and – showing a lack of vision by the political leadership at the time – the solution was to issue energy saving light bulbs to manage the skyrocketing energy hikes between 2007 – 2012. Just UNBELIEVABLE!
Mr. Davis also updated the public on the maintenance programme now underway at the Corporation in preparation for the increased summer demands on electricity.
"BEC is taking the prudent approach and using this time to overhaul its large diesels at Clifton as part of its ongoing Maintenance Programme and in preparation for the summer demand. Maintenance Programme orders have also been placed for the procurement of parts to attend to the combustion turbines at Blue Hills Power Station.
"The Corporation is also investing in enhanced computer technology[1] that will improve system operation, reduce outage times and assist in data gathering. This project is now 90% completed and is projected to be completed by mid-2015.
"Voltage upgrades are set for exchange between Big Pond and Blue. As well, construction of new 33,000 volts substations for the areas of Venetian West and Gladstone/Fire Trail Roads are on tap to facilitate growth. Meanwhile another is being installed at Wulff Road to replace the current unit.
"Further, BEC will upgrade transmission lines on Prince Charles Drive to provide increased capacity to eastern New Providence. These works will commence within the next couple of months," Minister Davis said.
Now this is what we call GOOD, VISIONARY and SUPERIOR LEADERSHIP!
GO TEAM CHRISTIE GO – We are headed in the right direction!
We report yinner decide!