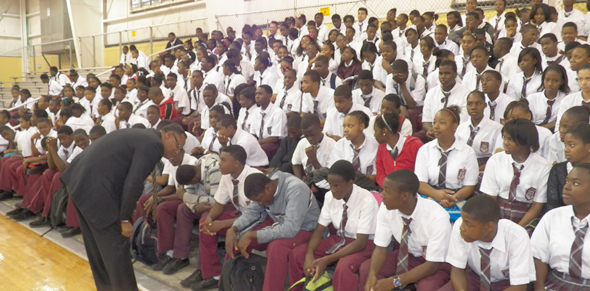 By SIMON LEWIS
Bahamas Information Services
FREEPORT, Grand Bahama – Students from schools throughout Grand Bahama held special assemblies on Thursday morning, January 10, to commemorate Majority Rule Day in The Bahamas.
Minister for Grand Bahama, the Hon. Dr. Michael Darville, joined in the special assembly at St. George's High School telling students that outside of Independence, there is no greater event in Bahamian history.
Addressing hundreds of students assembled in the St. George's Gymnasium, the Minister informed that "Majority Rule, which was realised 45 years ago, on January 10, 1967, is an important milestone in Bahamian history which many Bahamians take for granted, simply because they are not aware of its importance.
"However, with the exception of the country's independence in 1973, there is no other event of greater significance in the lives of Bahamians other than Majority Rule," he told the gathering.
Continuing, the Minister reminded students that in order to know the future, the past must be known.
"As I am sure you all would remember on May 12, 2012, thousands of registered voters, as young as 18 years old, turned out in large numbers to cast their ballots for the candidate of their choice.
"Before Majority Rule in 1967, this would have been impossible because only land owners could vote.
"Students, Majority Rule paved the way for average Bahamians like you and I to have the freedom, the rights and opportunities that we enjoy today.
"Since 1967, Bahamians like Sir Sidney Poitier, the Golden Girls and most recently the Golden Knights have made their mark on the world and brought much exposure to our small country," he stated.
Concluding, he reminded students of a quote which says, do not follow where the path may lead, go instead where there is no path and leave a trail.
"Our forefathers who led us into freedom and independence lived this quote everyday and were true Bahamian trailblazers.  I would like to challenge you all here today to go confidently into the direction of your dreams and make your positive contributions to our great country and the world," he stated.
The assembly was also entertained by the school's Glee Club and a dramatisation by Christina Meme and The Group.
The gathering also listened to Governor General Sir Arthur Foulkes' remarks, read by the school principal, Mr. Keith Barr.
Sir Arthur, who was very much a part of the struggle for Majority Rule, in his message, recounted the many activities that led to that  day.