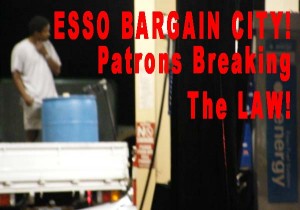 Nassau, Bahamas: A visit at the Esso Bargain City gas station on Carmichael Road one would discover the best-kept secret in New Providence. The station has the lowest gas prices in the country. However, upon closer inspection, you would find something sinister taking place.
Whilst uniformed police officers are on duty nightly, which guard a grocery store near the station, some patrons are collecting gas in containers BREAKING THE LAW, whilst putting others at risk.
It is against the law for any person to fill "unapproved containers" with gasoline, but yet this station appear to allow, in front of uniform police officers, scores of persons to fill gas into unapproved containers.
Ministry of Works officials, who have oversight of this issue, would find many residents at this station filling up gas in steal canisters, glass bottles, plastic bottles and garbage drums all throughout the day and evening at the station.
On yesterday upon visiting, we discovered whilst police officers looked on, a man began filling 6 plastic drums on a flatbed truck with gasoline. If this is AGAINST THE LAW, as our sources have advised in the industry, why is this happening at a station in public view? The rule, which governs this infraction by gas stations, also empowers an inspector of the ministry to "CLOSE THE STATION DOWN, IF SUCH ILLEGAL ACTIONS PERSISTS!"
Bahamas Press is concerned with all this LAWLESSNESS TAKING PLACE IN THIS COUNTRY, and with GLOBAL TERROR rules now in place to avoid such illegal actions, when will we in this country come to terms with the fact that failing to follow the rules will one day lead to terror here in this Bahamas.
What will we then do when on 'PINHEAD' decides to fill 50 drums with gasoline and place in an area to harm residents or guest coming to this country?
A station operator told Bahamas Press that the filling of drums is the regular practice of two elements in the country, "Many times these drums are used to facilitate drug runners who move to stations in the middle of the night and fill their containers to make their run.
And some others are part of the illegal smuggling trade. They fill these containers with gas to move in their vessels in the dead of night," the operator said.
"It is against the law to dispense gas in unapproved containers, and yes, an operator can have his station closed if this infraction is made," he concluded.
Now we know the danger, let's see how long this practice will continue, right in front of uniformed officers, before a national disaster takes place.