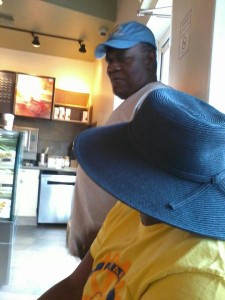 Nassau, Bahamas – The no good jackass sissy son of a former FNM Chairman didn't have the decency to show up to the Saturday evening reception, which continued for the bride and her guests, despite the fact that the groom 'vickedly' called off the wedding for the couple.
Bahamas Press has more into that wedding bust up, where the bride to be and her family had spent more than $50,000.
Guests, we are told, from as far away as South Africa and around the world were already in town to witness the event, which was not to be.
Sources close to the incident told us the bust up began when the bride uncovered suspicious messages in the phone of the groom. A big row ensued and the sissy groom then ran to the police station, telling the officers how the woman who was to be his wife by the end of the week had attempted to kill him.
The groom, sources have confirmed, is a close friend of a police officer and male medical doctor, who the bride to be discovered were all 100 percent 'gynecologically' GAY.
On Saturday the bride's family hosted her out of town guests and thanked them all for their love and support of her.
Meanwhile the groom is online praying the Serenity Prayer and was overheard in the barbershop telling patrons i am 100% Heterosexual.
Meanwhile, little is known what happened in prison to political activist who was recently arrested in the same cell with BIG DICK WILLY from OKRA HILL! The activist was arrested after he posted photos of a naked dead man on his facebook page. The mentally challenge activist, who is also Ingraham's appointed JP told residents he slept in Fox Hill like a baby as he told his story sitting on one side of his hip while in studio this past week. Some tell us after almost cussing out the judge in the case, the activist could not meet his bail, however, after one night with BIG DICK WILLY from OKRA HILL, the JP left all his possessions – including his last three dollars at the big doll house. When asked if he was headed for the items after signing bail, his response was – not right now because I need a ride in Fox Hill.
The activist is known of his wildmarches for hanging, which he explained was to end his life on April 4th when he sit behind bars.
We report yinner decide!