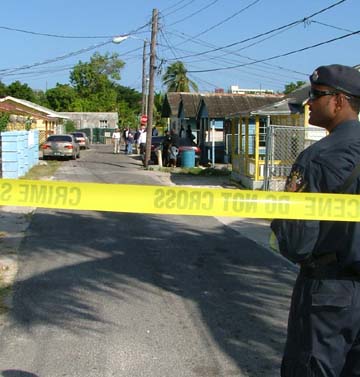 Robber on Gibbs Corner was shot dead by shop owner, however police have yet to arrest the owner of the liquor store who killed his robber with an unlicensed firearm.
Nassau, Bahamas – A robber was shot dead last evening following a robbery at Keley's Liquor Store on Gibbs Corner just off East Street. The robber in his 20 was shot as he attempted to get away from the scene of the foiled robbery. His accomplice however got away with an undisclosed amount of money. 'Picky' (the dead man's street name) fell to his death, following a single shot, whilst another man witnessing the ordeal was shot in his leg during the gunfire exchange.
Bahamas Press gives no wrong to the store owner for his response in this latest incident. Knowing the climate today in The Bahamas is now 'SERIOUS' when it comes to crime, where residents are horrified by level of daily murders and robberies taking place.
However, we are concerned with the fact, according to our source, that owner of the bar has a serious 'rap sheet' of crimes himself. This being the case his weapon used in defense was not registered, therefore he also is guilty of a crime, 'Possession of an UNLICENSED FIREARM.'
With guns going missing from the Exhibition Room at the Royal Bahamas Police Force, one must seriously ask the question, how did the owner of Keley's Liquor Store get possession of and used an unregistered gun to kill a robber and he himself is still not arrested for his crime? Did a police officer facilitate that owner with this weapon? And again what is the murder count, where almost everyday some is dying on the 'violent streets' of the capital, yet the death count which should be around 40 by now has been stuck on 25 for almost one month now.
Bahamas Press really would like to know.