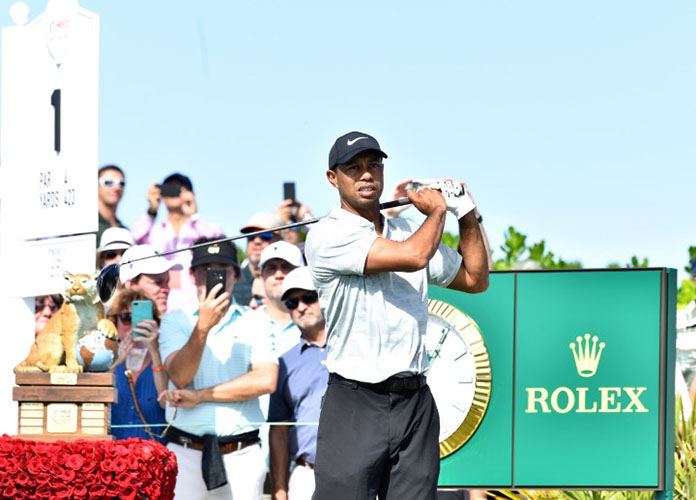 Nassau, Bahamas: As Hero World Challenge gets into full swing, many of the tournament's players are gushing about The Islands Of The Bahamas.
World renowned golfers such as Tiger Woods, Justin Rose and Tony Finau are among 18 players who will tee off for a $1 million top prize at Albany's par-72, 7,302-yard Championship Golf Course for the fourth consecutive year.
Woods, who is hosting the tournament, said The Bahamas is a great place to hold the much-anticipated event.
"One of the great things about The Bahamas is for us to come down here, enjoy the weather, come down here and enjoy just the scenery – the clear water," he said.
"It's just very relaxed and very laid back. I think anyone who's come down here to experience Albany – here in particular – enjoys it. The fact that we have a world-class golf tournament, Hero World Challenge, here just adds to the environment."
Rose, like Woods, owns a home at Albany and is a regular on the resort's course.
But Rose says golf is enjoyable throughout The Bahamas.
"It's nice to showcase The Bahamas," he said. "I know there's so many different islands with different styles of golf courses all over, but there's surprisingly good golf courses scattered around The Bahamas and it's nice to showcase that."
For Finau, he is excited to be at the destination.
"I watched this event for years when it was held at different places and it's so cool to be a part of it this year. Being one of 18 guys is pretty special. It's great to have the opportunity to be here and compete, but especially to be here in The Bahamas, my first time, so it's pretty special," he said.
Official World Golf Ranking points are awarded in the four-round game, which is being played from November 28 through December 2.
Live television coverage of the Hero World Challenge will be provided by the Golf Channel during all four rounds and by NBC during the third and fourth rounds.
Officials have announced that Hero World Challenge will remain in The Islands Of The Bahamas for the next four years.