Great Progress at Dumpsite by Contractor at landfill –  but why would detractors to the new operators lite the fire?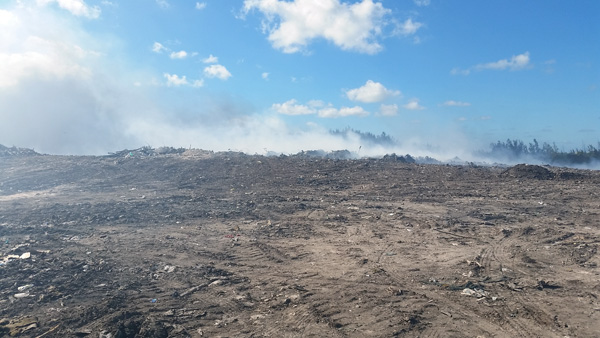 NASSAU, The Bahamas (Jan 22, 2015) Renew Bahamas has now covered more than half of the 17 acres of the Harold Road Landfill site affected by the recent fire.
The company has made very good progress today by continuing to utilise a fleet of heavy equipment, water trucks and pumps to suffocate the fire and mitigate the resulting smoke. This approach will be continued for at least the remainder of the week. The company has also created two additional firebreak roads to discourage the spread of any resurgent hotspot fires.
Residents in the surrounding communities can expect the site to continue to smoulder throughout the weekend. The company will confirm once it is satisfied that all the surface fires have been extinguished and the smoke contained.
Should residents experience smoke, it is recommended that you stay in doors and keep all windows closed. Residents are also advised to consult a physician should they experience any ill side effects from the smoke.
Please be assured the company is doing everything it can with its team of contractors and the Fire Services Branch of the Royal Bahamas Police Force to bring some relief.
The company will continue to post updates regarding its progress in dealing with the fire.