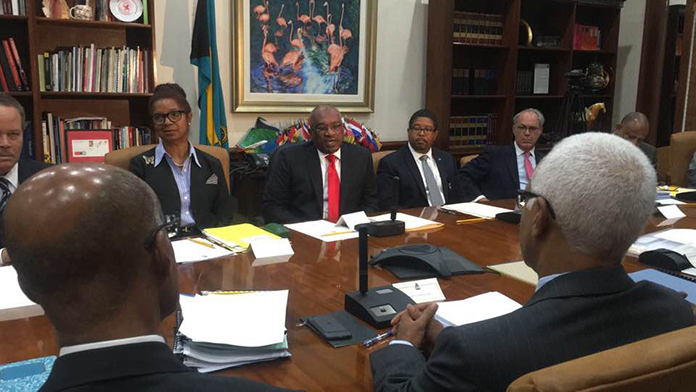 NASSAU, The Bahamas – The Government of The Bahamas has moved to address a number of "specific matters of concern" that they have been asked to since being elected to office on May 10, 2017, Prime Minister Dr. the Hon, Hubert Alexander Minis said.
This includes the appointment of a Sub-Committee of Cabinet Ministers to address the matter of the New Providence Landfill, which Prime Minister Minnis said: "we pledge to fix as quickly as possible."
Prime Minister Minnis said the Government will also move quickly to restore the Rand Memorial Hospital in Grand Bahama following a recent fire there.
"While the Emergency Plan appeared to work well, we will give further attention to protocols to be observed in cases of emergency," Prime Minister Minnis added.
Delivering his inaugural national address the nation's Chief Executive Officer, July 26, 2017, Prime Minister Minnis assured citizens that school repairs will be completed in time for the new school year.
"We are committed to ensuring that the atmosphere is conducive for students and teachers, ahead of the upcoming school year," Prime Minister Minnis said.
The Prime Minister said his Government has also recruited a number of new teachers and are working to ensure that schools are properly staffed.
Prime Minister Minnis said his Administration remains committed to National Health Insurance for all, but that it must be implemented in an orderly manner.
"It is essential that critical items are in place in the ongoing introduction of NHI, including infrastructure, supplies and staffing among others," Dr. Minnis said.
Prime Minister Minnis said his Administration is also devising an energy policy that includes an ambitious programme for solar energy and long-term, lowering the cost of electricity which, he said, is essential for economic growth.
"We are also drafting legislative agenda based on legislation regarding public finances and government accountability and transparency. With the opening of the crawfish season, I have asked the Minister of National Security to ensure that the Royal Bahamas Defence Force is vigilant of poachers in our water."
Prime Minister Minnis said the appointment of Government Boards is now complete.
"We fully expect Board members to execute their duties with professionalism and to adhere to the highest ethical standards."
The Prime Minister Minnis has appointed a National Economic Advisory Council to advise his Administration on specific proposals for economic diversification and growth in The Bahamas.
The Prime Minister said one such area for economic diversification and growth is in the area of the maritime industry.
"I recently visited the LJM Maritime Institute which trains young Bahamians for jobs in the maritime industry. I have been told that there are approximately 5,000 jobs Bahamians can be trained for in the international maritime industry. We will boost support to entities that train Bahamians in the many career paths in the maritime sector."
Prime Minister Minnis said the focus will allow Administration officials to explore a significant opportunity to diversify the economy in an area in which the country has a significant comparative advantage as in the tourism and financial services sectors.
"This project will open up other parts of The Bahamas," Prime Minister Minnis added.
Dr. Minnis said he has also appointed an 'Ease of Doing Business' Committee to make speedy recommendations for reducing Red Tape for domestic and international investors.
"In due course, I will announce targeted investment and trade missions to attract international investors who may want to partner with Bahamian investors in areas such as renewable energy, agriculture, aquaculture and other industries."
The Government is also giving consideration to transforming the Hotel Corporation into a Tourism Development Corporation that will have as its mission, diversification within tourism and the development of more boutique resorts in the Family Islands.
Prime Minister Minnis said the Government also has a plan in place to address crime and violence amongst the country's youth.
One such initiative will be an ambitious youth entrepreneur programme that intends to touch the lives of hundreds of young Bahamians.
"It is now understood and agreed globally that one of the most potentially dangerous forces in the world is poorly guided young men," Prime Minister Minnis said.
"Such numbers of young men can also serve as a force for extraordinary good. Most of our violent crime problem, is caused by young men – many of whom are poorly socialized and who often have little regard for life.
"Along with good policing and a more efficient judicial system, it is the combination of community guidance and economic, education and training opportunities that will reduce the scourge of crime."
Prime Minister Minnis said his Administration came to office "faced with a known challenge."
"Too many of our young people are caught up in the vicious cycle of crime and violence. My Government is committed to providing the necessary resources to help our young people make better decisions. We must invest in them before they go astray," Prime Minister Minnis added.