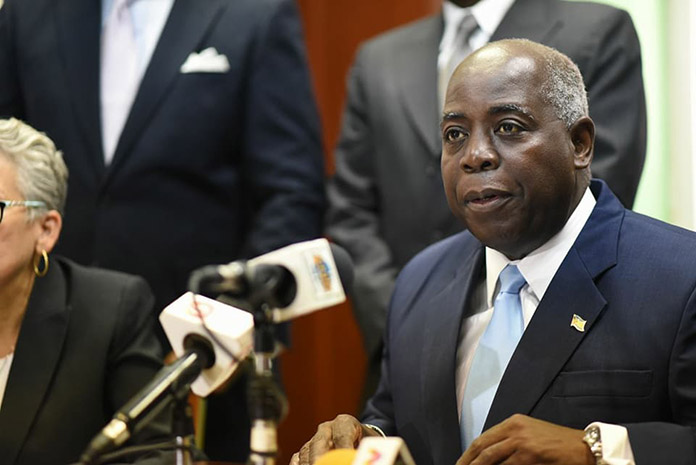 STATEMENT BY OPPOSITION LEADER THE HON. PHILIP BRAVE DAVIS
FOR IMMEDIATE RELEASE
27TH JULY 2017
The first nationally televised address by Prime Minister Minnis underscored what the PLP has been saying about the FNM before and after the general election: the FNM has no vision, no plan and no ideas for the future sustained growth and development into a united, resilient and strong Bahamas.
Dr. Minnis instead took the opportunity to continue the blamestorming, further dividing the country along political lines through untruths about the PLP. His campaign promised change, transparency, accountability and prosperity but, thus far, his administration has delivered only victor's justice, political persecution, victimization of government workers through mass dislocation and numerous broken election promises.
With more than five thousand young Bahamian graduates entering the labour market this year, the Minnis government has added to the unemployment rate, hardship and suffering by many Bahamian families through the firing of large numbers of government workers for purely political reasons. This is not what Bahamians voted for.
What are the plans for jobs creation, economic growth, tourism growth and economic diversification? As critical as climate change and irregular migration are to our future stability, national identity and national security, what are the strategic plans to address these critical national issues?
After enjoying a doubling of the nation's investment in scholarships, there is now talk by the FNM government of cancelling and cutting back on scholarship opportunities for young Bahamians. Again, this is not what Bahamians voted for.
Crime continues unabated.
CRIME, JOB CREATION, THE ECONOMY, CLIMATE CHANGE, ENVIRONMENTAL PROTECTION AND IRREGULAR MIGRATION ARE THE PRESSING NATIONAL ISSUES FACING THE BAHAMAS AND ANY GOVERNMENT WITHOUT A COHERENT AND COGENT PLAN TO ADDRESS THESE CRITICAL ISSUES IS SIMPLY OUT OF ITS DEPTH AND OUT OF TOUCH WITH THE REQUISITE NEEDS OF THE COUNTRY!
The Prime Minister failed to announce any new initiatives that will inject new and fresh capital into the economy. Vague and ambiguous announcements lacking specifics and timelines on new committees, studies, along with broad promises underscore this troubling lack of vision, plans, ideas and leadership focus our country badly needs at this time in our national development.
We again call for the Government to articulate its Economic Growth Plan. Austerity measures in the absence of the same will likely trigger a double dip recession. Further, how will Bahamians ordinarily absorbed into the public service be otherwise employed? Any economic plan must clearly and decisively address this grave reality.
Since the government sits at the center of the country's macro-economic cycle, a hiring freeze in the public service deprives the government of the requisite skill sets, expertise and resources necessary to drive informed public policy and facilitate the desired results of progress. The PLP government learned this the hard way between 2002 and 2007.