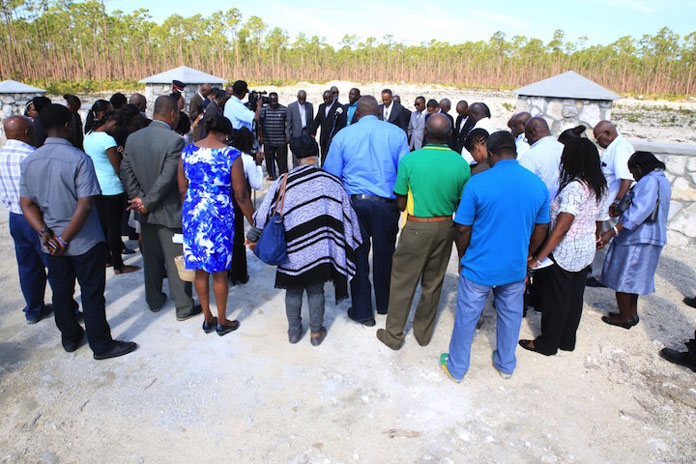 FREEPORT, The Bahamas — As a part of the Government's commitment to improve the quality of life for the residents of East and West Grand Bahama through its aggressive infrastructural agenda and economic policies, Minister for Grand Bahama, the Hon. Dr. Michael Darville recently announced plans to develop and construct a new subdivision in East End.
This new subdivision will occupy approximately 52 acres of land, located east of McClean's Town, north of the docking facility that goes to Deep Water Cay. The proposed new subdivision will consist of single family and multifamily lots, as well as areas allocated for commercial use. Phase One of the project will cost approximately $1,168,388.
"One of the mandates of this government is the revitalization of Grand Bahama Island and its economy; and East Grand Bahama is included in that vision," said Minister Darville during a ceremony to celebrate infrastructure development projects for East Grand Bahama, February 6, 2017 in High Rock. "We know that for some time now, access to crown land has been a great concern for many. Thus, the Government has made plans for the new subdivision in East End," he told East End residents.
In addition to the new proposed subdivision, the government has also embarked on a number of other projects, including the East Grand Bahama Potable Water Project of which Phase One was commissioned, and officially handed over to the Grand Bahama Utilities Company on Monday.
The government also embarked on a project to create a new cemetery for High Rock.
Minister Darville noted that shortly after assuming office, it was brought to the government's attention that the current High Rock Cemetery had reached its capacity and could not accommodate any more persons as their final resting place.
"We found this to be of major concern and so we moved swiftly to find an adequate solution," said Minister Darville. "As a result, some 7.5 acres of crown land was granted for the establishment of a new cemetery and a contract was awarded. Waugh Construction was gracious enough to cut the access road for the work to begin.
"The work is on-going and the entrance wall is near completion. I am also happy to announce that we will also turn over Phase One of the cemetery project to the Administrator and Local Government Authorities here in East Grand Bahama."
Minister Darville reiterated his administration's intent of taking progressive steps to lessen the burden of daily living for the people of Grand Bahama, but more specifically to spur growth and create more opportunities for the residents of all the outlying communities of Grand Bahama.
"East Grand Bahama today is a clear indication that as a government we have been working on your behalf and will continue to do so for the people of Grand Bahama and by extension, the entire country."