VAT PSA 17 from King Of Hearts Media on Vimeo.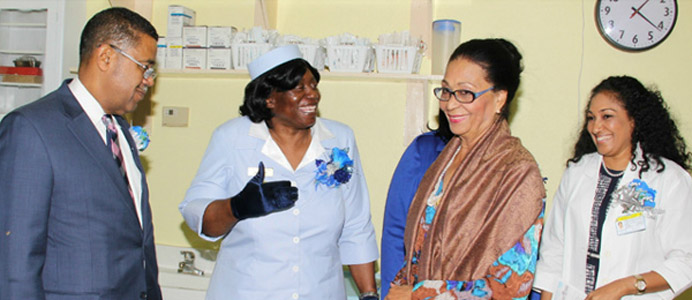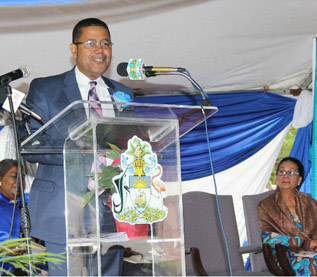 NASSAU, The Bahamas – Governor-General Dame Marguerite Pindling made her first official visit to Fleming Street Clinic Thursday, December 11. The visit is a part of an annual tradition to celebrate the festive season of Christmas.
Officially opened in 1990, the Fleming Street Clinic provides primary and public health care services to over 61,000 patients in homes, schools and the communities of Bain and Grants Town, Centreville, Fort Charlotte and Mount Moriah.
Among those welcoming Dame Marguerite were the Minister of Health the Hon. Dr. Perry Gomez, Government officials, health care providers, students, teachers, patients, staff and members of the neighbouring community.
In addition to the traditional songs of Christmas, there were musical selections by Woodcock Primary School, Coconut Grove Pre-School, T. A. Thompson Junior High School Band, and the Royal Bahamas Police Force Pop Band. Employees of the clinic also participated in the ceremony.
In her address, Dame Marguerite said access to available and affordable health care services is "vital" in assisting everyone to live long, productive and fulfilling lives.
"Good personal and family health must be more than just the absence of physical diseases," she said. "Good personal health and health care provided must be individualized, incorporating the mental, emotional, psychological and spiritual needs of the clients who seek your service and care. Similarly, the working conditions and health of workers themselves are just as important and relevant to the delivery of healthcare."
She said the theme "Joining Hands to Provide Quality Health Care for a Better Bahamas," includes incorporating civil society, government and non- government organizations and other social entities in the planning, developing, implementing, monitoring and evaluating health strategies, thereby providing opportunities for the pooling of human and financial resources. Combined with sharing of knowledge, skills and experience, Dame Marguerite said such a team effort should result in better health outcomes and the enhancement of human potential.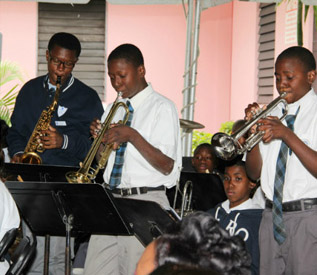 On behalf of the Bahamian public, she extended gratitude to the health care teams in the Department of Public Health, the Ministry of Health and the Public Hospitals Authority urging them to continue to "join hands" in solidarity to provide quality care for a better Bahamas.
Minister Gomez remarked that since the construction of the Fleming Street Clinic, successive Governments invested in the public health care sector increasing from $77 million in 1988 to almost $300 million in 2013/2014.
Additionally, he emphasized that 22 Polyclinics have been constructed in New Providence and the Family Islands; with more facilities nearing completion in Abaco and Exuma. Plans are also afoot to construct a health care facility in Eleuthera, and the repair of existing health facilities throughout the country, he said.
"These infrastructural developments are necessary to improve access to diagnostic and other specialty services especially with the introduction of Universal Health Insurance Coverage," he said.
Minister Gomez said the Ministry of Health in collaboration and partnership with the National Insurance Board, has completed the proposal for the implementation of Universal Health Insurance for The Bahamas. He said the cost of the program has been projected and sources of existing and new funding to sustain the program have also been identified.
He announced that the Universal Health Insurance Programme will be implemented in January 2016 to ensure that all residents in The Bahamas receive "equitable, high quality preventative and curative health care services, regardless of age, gender, geographical location or socioeconomic status".
"We would all agree that despite continued progress in health development in our country, health inequities remain, whether it is through failure to ensure sustainable deployment of doctors, nurses and other health care workers in the Family Islands, or the shortage of critical drugs at times, or access to specialist physician care to reduce unnecessary hospital admission — the fact is that access to equitable high quality health care services remains an issue that must be addressed, and my Ministry and staff are committed to doing just that — fixing it," he added.
Minister Gomez expressed appreciation to the staff of The Ministry of Health, Department of Public Health, partners and stakeholders for their tremendous support in the delivery of quality health care services.
Dame Marguerite and other platform officials accepted gifts, joined a tour of the clinic and shared in the refreshments.
PSA 18 from King Of Hearts Media on Vimeo.