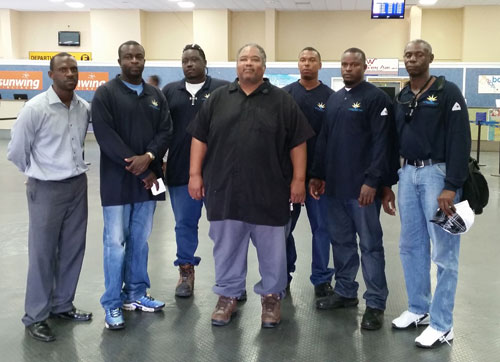 Freeport, Bahamas – Six (6) Grand Bahama Power Company (GBPC) employees departed Grand Bahama International Airport-Domestic Terminal on Sunday October 11, to assist the Bahamas Electricity Corporation (BEC), with restoration efforts in the wake of Hurricane Joaquin. Upon receiving reports of the damage, GBPC quickly offered assistance to BEC and commend the members of its crew who did not hesitate to accept the assignment.
This initiative is in keeping with the Company's corporate responsibility philosophy, and compassion for residents impacted by the storm. The crew consists of overhead linemen who specialize in the construction, maintenance and repair of transmission and distribution assets. They will work 16-hour shifts, seven days a week for the full duration of their trip.
"Providing support to our neighbours in this or any major natural disaster is one of the hallmarks of GBPC and Emera our Parent company" said Troy Mackenzie, Director of Transmission and Distribution. "Our thoughts and prayers are with the people affected by Joaquin in the Southern Bahamas; we will make every effort to aid in the restoration of power as quickly as possible."
We are confident that our team which will be headed by Patrick Laing along with Walter Smith, Andre Spence, Chad Bartlett, David Parker Junior, and Arthur Spencer will make a significant contribution to the restoration efforts.
The Grand Bahama Power Company would also like to express gratitude to Mr. Peter Turnquest M.P. for East Grand Bahama, who graciously donated the transport of the critical tools, supplies and luggage for the crews.