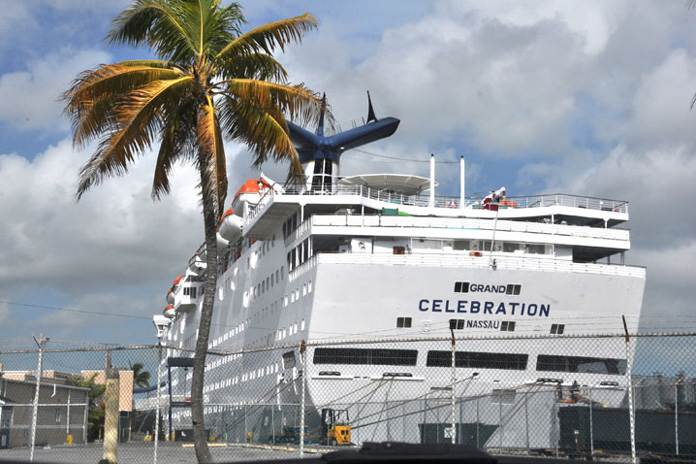 FREEPORT, Grand Bahama – The Grand Celebration welcomed its first anniversary on Wednesday, February 3, since its re-launch and upgrade to a new vessel.
Betty Bethel, Director of the Ministry of Tourism, Grand Bahama, was present for the occasion and said the Ministry was very excited about the anniversary and the fact that the Grand Celebration has over delivered on expectations.
She added that in order to see more vessels of this magnitude come to Freeport Harbour, the Ministry of Tourism is focused on strengthening the product on-island: "We have aggressively been looking for new product, and have come up with quite a few events that we believe will be a stimulator for guests to come to Grand Bahama, so our emphasis is on strengthening guest services, customer service is key, new tourism attractions and events."
With training being a key component, the Ministry of Tourism will start a series of training programmes in April known as 'My Tourism Customer Care Workshop.' There will be four workshops for front line and supervisor staff members.
Turning her attention to the Grand Celebration, Ms. Bethel said the vessel has promoted a 'Cruise and Stay' programme, and while they have brought in over 220,000 visitors, some 75,000 were stop-over visitors. "It's partnerships like this that we are supporting and promoting because it is the cruise-and-stay that makes a difference in the economy."
According to David Johnson, senior business consultant for Bahamas Celebration Cruise Line, the new ship was delivered one year ago, and represents an increase of 50 per cent in its capacity. The company increased their business in order to fill the much larger ship.
"We have now delivered over 220,000 passengers, over 180 voyages to Grand Bahama and have had an impact of over $45 million spent in this economy; we are employing Bahamians on our ship," said Mr. Johnson.