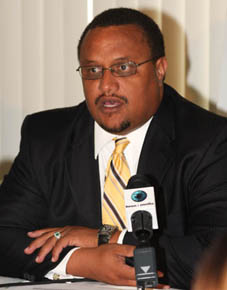 The mixed signals of Gregory Moss – Will he now gut the leader of the DNA?
Editorial of the Freeport News
Gregory Moss, the Member of Parliament for Marco City is an intellectual. By all appearances, he is highly intelligent. He is quite eloquent, one of the best on the political scene today, at enunciating and articulating. His presentations are clear and definite.
There is no difficulty at all understanding his point of the occasion. In his case though, there have been many speaking occasions and when you go back and compare the statements, one wonders as to what all goes on in his head.
He refers, according to a report he has not refuted, that the Democratic National Alliance (DNA), led by Branville McCartney, is a one-man organization, maniacal, megalomaniac, and egotistical, the kind of environment he has had enough of.
Firstly, such an outlook is far from complimentary of McCartney and his DNA colleagues.
Megalomania is described as a mental disorder producing delusions. Maniacal comes from the word mania which denotes a mental disorder or excessive enthusiasm for something, a person, a cause etc. Egotistical is just another way of calling someone conceited.
According to the report, in one breath he is said to have expressed the inability to be a part of such an organization. Then the story goes on that Moss has still not ruled out joining the DNA.
If Moss is to be believed, he will not join the Free National Movement because he seems to have taken the position that the two top political parties in the country are basically one and the same.
It just looks like for Moss, perhaps it might be best for him to remain an independent member of the House of Assembly. He doesn't seem to be a good fit for party politics. McCartney and the DNA hierarchy members now know exactly how he feels about them. Moss can either refute what has been reported and what has been heard.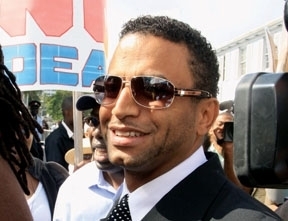 Barring that, it doesn't seem that there could be a total comfort zone with Moss as a part of the DNA.
While he has demonstrated great courage in breaking away from the Progressive Liberal Party and clearly is a cut above the average politician, Moss might well only be able to function for any lengthy period of time with a political group that marches only to the drum he beats.
The more you observe Moss and hear statements from him he appears best suited for a one-man band. Quite frankly, there are those who see Moss as an egotist and quite like the description he gave of the DNA and its leader.
He's left the PLP. He wants no part of the FNM. The DNA is not the type of an organization that is for him.
What next?
Will he form his own party?
If he joins up with Dr. Andre Rollins, and Renward Wells and others in another political party, will he bolt once his way of thinking on issues is not supported?
Gregory Moss is a big political question mark?
His signals are mixed.
It will be interesting in the weeks, months and years to come, to see just how he ends up politically.
End-
Published – Thursday, June 11, 2015