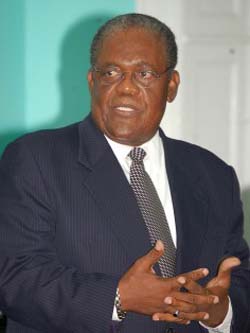 <<< Prime Minister Rt. Hon. Hubert Ingraham.
By Sharon Turner
Nassau, Bahamas – President of Guyana Bharrat Jagdeo has supplied documents to Prime Minister the Rt. Hon. Hubert Ingraham in respect of his claim that  a substantial portion of CLICO's (Guyana) assets were tied up in the operations of CLICO Bahamas Limited, Mr. Ingraham told reporters Monday.
Responding to a question on the matter Mr. Ingraham said, "I told President Jagdeo that he ought to make available to me all the information that they had to substantiate their claim.
"He caused that to be delivered to me in Belize City. That would have been delivered by my Office to the Registrar of Insurance and the Liquidator today (Monday). I expect to be able to know from them today (Monday) the legitimacy of that documentation, and if they are as they appear to be, to so inform the President of Guyana."
Back on March 2 during his communication to Parliament following the announced liquidation order for CLICO Bahamas Limited, Mr. Ingraham advised that he received several telephone calls from Mr. Jagdeo following that announcement, expressing that "some 53% of CLICO's (Guyana) assets were tied up in the CLICO Bahamas operations."
Mr. Ingraham told reporters that no such information regarding the claim was available to The Bahamas at that time.
Insurance sector regulators in the Caribbean met in Trinidad last week to discuss the CLICO matter, and have been mandated to prepare a report for Heads of Government in the Caribbean.
"We are proposing to have a meeting in Barbados to discuss CLICO and several other things, perhaps by the end of this month," Prime Minister Ingraham said.
"We have determined that it is a Caribbean-wide problem; that no individual country would seek to go on its own without consultation with the Group and that we may therefore be in a position to make some determinations based upon the reports which we receive from the regulators of insurance."
In addition to laying out the facts and circumstances surrounding the state of CLICO Bahamas Limited during his recent statement to Parliament, Mr. Ingraham also advised policyholders in The Bahamas on how to proceed during the liquidation period.
"Should I continue making my premium payments? The answer is yes," he advised. "The Company's principal office located at Mount Royal remains open for business. If the Liquidator enters into an agreement with a local insurer, he can only transfer policies that are in force and not those that have lapsed due to non-payment."
It is advice Mr. Ingraham said policyholders in The Bahamas have been following.
"I am very pleased that the public of The Bahamas has been accepting my word as being words they could live by and have been doing exactly what I asked them to do – continue to make their payments until I tell them otherwise," he said Monday.