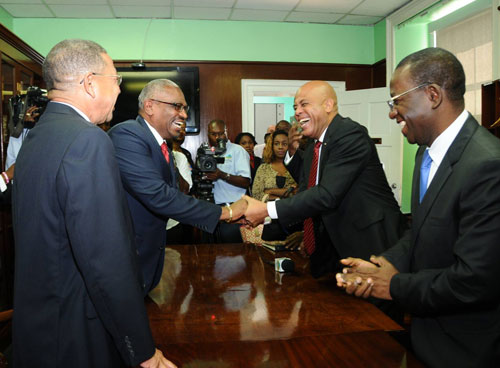 Nassau, Bahamas – Opposition Leader the Hon. Dr. Hubert A. Minnis, received Haitian President, His Excellency Michel Martelly in a courtesy visit held at the Minority Room of the House of Assembly on Tuesday, July 29, 2014.
President Martelly visiting The Bahamas for one-day explained that the objective of the visit was to engage The Bahamas Government in discussions of bilateral interest in the areas of trade, migration, and investment that would strengthen the relationship between Haiti and The Bahamas. Dr. Minnis said he welcomes and supports the idea of investment that will create opportunities in Haiti that will help to stem the flow of migrants.
"I look forward to regional integration and working together in broad areas of sports, education and economics," said Dr. Minnis. Minnis pledged the support of the Free National Movement to promote a relationship of mutual understanding between the The Bahamas and Haiti.
The Photo shows from left: Hubert Chipman, FNM Shadow Minister of Foreign Affairs; Dr. Hubert A. Minnis shaking hands with Haitian President Martelly and Mr. Jean Turgot Senatus, Counsellor, Embassy of the Republic of Haiti. FNM Deputy Leader Loretta Butler-Turner greets Haitian President Martelly.