BISHOP WALTER HANCHELL REMAINS DEFIANT IN THE FACE OF CONTEMPT CHARGES, DIGS IN HIS HEELS AND TAKES LEGAL ACTION AS HE DEFENDS HIS TWO PROPHETIC POOFTERS…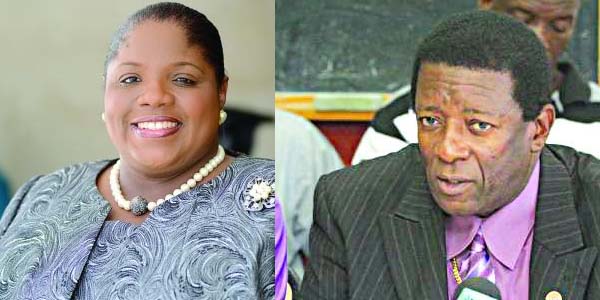 PRESS STATEMENT FROM BISHOP WALTER S. HANCHELL, CHAIRMAN OF CITIZENS FOR JUSTICE
I refer to comments made by the Chief Magistrate Joyann Ferguson-Pratt with regards to a matter before her court involving a pastor and a youth minister who were charged this week with indecent assault and cruelty to a child. Firstly, I do not condone or support anyone who would abuse minors in any fashion. I have been a vocal advocate against child sexual abuse for many years and have called for stiffer penalties to be imposed on convicted child molesters. Unlike many of my colleagues, I believe that corporal punishment should be given to persons found guilty of the sexual abuse of children. I will continue to advocate for the rights and protection of our precious children. For over 25 years, I have headed Great Commission Ministries "Save the Children" Club for at risk inner-city children and will continue to provide programmes for the over 200 children that we minister to regularly.
With regards to the magistrate trying to intimidate me with her recent remarks, I would like to clarify a few matters. Firstly, I stand by my previous comments. Truth needs no defense. I am not here to attack the judiciary but to appeal for justice.
1. It has come to my attention and the attention of the attorney for the accused that Chief Magistrate Joyann Ferguson-Pratt personally knows the grandmother of the virtual complainant, whom she is very close with and she is a friend of the family, having visited their home. She also knows the accused Arsinieo Butler and met with him in a private meeting in late 2013 with a number of other persons present.
2. The Chief Magistrate was requested by Butler's attorney to recuse herself from hearing this matter since she knew both the accused and the family of the alleged victim but she refused to do so. I believe this should never happen in our judicial system and that this serious breach should be investigated.
3. No court or person is above the law and there must be fairness and justice in each matter in all of our courts. Justice must be fair and this case appears to have been compromised.
4. Pastors are not different from other citizens and must be treated fairly and be given the same rights afforded to other accused persons. All persons charged before the courts are innocent until proven guilty in a court of law and not in the court of public opinion.
5. I have instructed our attorneys to file a formal complaint to the Chief Justice with regards to this matter and will not be intimidated by anyone including members of the judiciary as we pursue justice and truth for all Bahamians.
Bishop Walter S. Hanchell, J.P.
Chairman, Citizens For Justice
February 14, 2014
The couple who is alleged to have taken a schoolboy on a joyride and was caught bold-naked by the sister after the boy was drugged…