Sonny Waugh, aka "Mr. Rotary" cutting his cake on his 80th birthday.
Rotarian passes in GB
Nassau, Bahamas — Another great Grand Bahamian businessman and community man has passed. BP is reporting the death of Harold Sonny Waugh, of Waugh Construction (Bahamas) Limited.
Eighty-four-year-old Waugh was born in Nassau in 1928 and established a name for himself in Grand Bahama through a series of business ventures.
He was a committed Rotarian. Freeport News published an interview from friend and Businessman Dennis Knowles who described Waugh as:  "…a good man, father, businessman and Rotarian. He will be sorely missed."
He was eighty-four-year-old.
BP sends our condolences to his family as they mourn his loss.
NIB Inspector dies in his sleep
Breaking News coming into Bahamas Press records the passing of NIB INSPECTOR – George Clarke Sr. He was 53.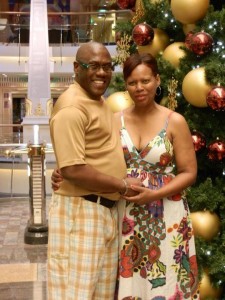 George was an avid churchman died in his sleep last night.
His death comes as a shock to his Anglican family. He was a member of The Most Holy Trinity Church in Stapleton Gardens.
George wrote on his Facebook page on July 29th the following: "I'm cleaning out my friends list…do you want to stay or not?"
What a surprise this morning. His death comes on the 49th birth-date of deceased popular artist Whitney Houston.
BP sends condolences to his wife and family as they mourn his loss today.
May they rest in peace and rise in Glory…Amen!