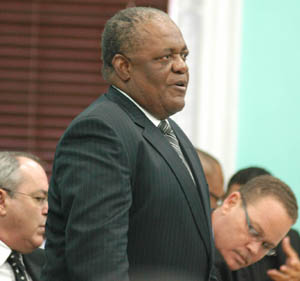 Nassau, Bahamas — Black Belt News, during the initial distribution years (1997-2009), had a special way of calling out or daring, if you prefer, Prime Minister Ingraham, to respond to questions about him. The saying, "Hey Hubert," was deliberately designed to show a serious level of disgust towards him and the hopes that he would lose what little sense he was born with—and challenge this publication. It never happened during those twelve years.
Black Belt News, in its second dispensation, is back again with the same purpose and design (when it comes to Ingraham), of showing a serious level of disgust and daring challenge for the prime minister by saying—hey Hubert, talk dis!! Likewise, it remains a given that if Hubert "feels froggy" about this story, he's more than welcomed to "leap!"
The influx of illegal immigrants to the Bahamas is well documented. It is an influx that has increased over the past three decades. Bahamians have been concerned about the effects of the increasing number of illegal immigrants and the toll it has taken and still taking on the public services in the Bahamas. This concern has escalated to hysteria as illegal immigrants are finding ways to remain in the Bahamas through the legal means of citizenship. And in many cases, nowadays, illegal immigrants are being 'invited' to seek citizenship by the legal means offered by Government officials.
This matter of citizenship and the hysteria exhibited by Bahamians recently took a critical turn for the worse when accusations arose about the FNM Government sanctioning the citizenship of illegal immigrants in order to have them vote in the upcoming General Elections. The sometimes dimwitted immigration and foreign affairs minister, Brent Symonette, finally came to the public (after his initial failed press conference) with the figures he claimed showed the number of citizenships given out during this FNM term as Government.
The figures thrown out seemed to be the healing balm for the concerns of Bahamians when it comes to illegal immigrants and citizenship—an issue that dates back to the time when Bahamians made attempts to get 'their Haitian straight' to remain of service to them in the Bahamas. And if what was reported to Black Belt News has even an iota of truth, it seems the scheme of getting a Haitian straight to remain of service is in play at the highest of levels of the FNM Government.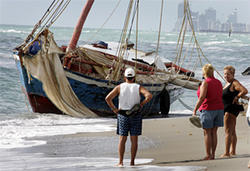 Black Belt News noted when Prime Minister Ingraham, some time ago, spoke of the need for the sloops on Arawak Cay to be removed. Black Belt News, like most sensible persons, agree that the docked sloops were/are unsightly and harbors disease while being the means by which illegal immigrants and goods are transported to the Bahamas. Applauds are in order for the prime minister talking about this ongoing concern. However, notwithstanding the prime minister's statement on Arawak Cay and the Haitian sloops; Black Belt News says—Hey Hubert, talk dis!!
Black Belt News has been informed that on September 7, 2011, a Government Notice appeared on page eleven of the Nassau Guardian Business Section, requesting that anyone inform the ministry responsible for nationality and citizenship if there is any reason why one Nitha Tanelus of P.O. Box SB-52076, Nassau East, Nassau, the Bahamas should be denied citizenship. Likewise, a similar Government Notice appeared for one Nikie Tanelus of Pohlemus Street, Nassau, the Bahamas on November 1, 2011. Who are Nitha and Nikie Tanelus?
Black Belt News has been informed that Nitha and Nikie Tanelus are sisters of Haitian descent. It is Nitha, however, that is the object of this story with the subject being the said connection between Hubert and her concerning citizenship. Black Belt News has been informed that Nitha Tanelus is an eighteen year old waitress working at an Arawak Cay stall owned and operated by Jeff Williams, an FNM hack.
Hubert is known to call Williams' stall his exclusive place to hang out on Arawak Cay and is said to have a fondness for Nitha who has a young baby. So it is known that Nitha is friendly with Hubert. It is also known that Hubert has, at least, one outside child. It is a fact that citizenship for illegal Haitians is an ongoing and major concern in the Bahamas.
But what is presently of more concern to Black Belt News is that persons whom also frequent The Nailer stall on Arawak Cay are saying that Nitha's young baby looks too much like Hubert—not to be his child! Too many patrons of this Arawak Cay stall are talking dis—hey Hubert, talk dat! And while you are at it—has Nitha and Nikie received citizenship? Leap frog—leap!