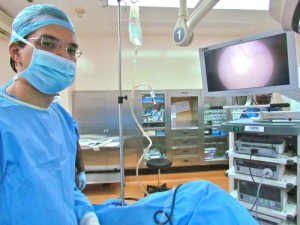 Nassau, Bahamas – Keva Ellis is relieved that she's getting to start the next stage of her battle against an aggressive cancer sooner rather than later. She was diagnosed with kidney cancer earlier this year, and in her case, time was truly of the essence.
The pioneering surgical efforts and sheer determination of her physician Dr Darius Unwala and management and staff at Doctors Hospital to help her get the best treatment possible led to her becoming the first patient in The Bahamas to undergo laporoscopic kidney removal (Laparoscopic Nephrectomy).
"In most cases, laporoscopic kidney removal is a better option than the traditional open surgical procedure because rather than ending up with an 8-10 inch incision along the ribcage, the patient ends up with a much smaller two inch incision. This is less painful, means they will generally spend less time in hospital, experience negligible blood loss during the procedure, require fewer medications to manage the pain, and in most instances, be able to resume normal actitivities and get back to work in two weeks rather than six," explained Dr Unwala.
In Keva's case the more rapid recovery was more than just a matter of convenience and reduced discomfort. In order to achieve the best possible outcome in her battle against cancer, she needed to be able to start chemotherapy or whatever treatment she and her oncologist felt best, as quickly as possible.
When presented with such a serious diagnosis, Keva decided to seek a second opinion. "I was surprised that Dr Unwala wasn't offended when I told him I wanted to do that. He actually welcomed my decision and suggested a list of doctors he knew who were in my insurance plan network. When I settled on one, it was Dr Unwala who made the referral," she said.
The surgeon in Florida gave her the exact same diagnosis and assured her that Dr Unwala had done all the right things. Presented with the option of having the identical procedure done at home or in Florida, Keva says three things helped her make up her mind.
"While I was seeking this second opinion and making my decision, there was some development in my cancer, so I really had to move fast," she explained, "I've only ever been in hospital before to have my children so it was important to me that my support system be by my side and that was much easier if I opted to have the surgery at home, and I really liked and trusted Dr Unwala."
Her decision made, the surgery date was set and according to Dr Unwala, Keva's was a 'very difficult case that went really well.' Although the young surgeon had performed the procedure nearly 70 times prior to returning home last September, he said it was exciting to be able to offer Bahamian patients the same options and quality of care at home and no longer have to refer his patients to the United States.
In order to offer the best surgical procedure for Keva, Dr Unwala needed to have certain equipment in place. Doctors Hospital Chief Executive Officer Charles Sealy said his team is always excited when new physicians return home and bring new knowledge and the ability to use newer techniques and technology.
"This presents us at Doctors Hospital with the opportunity to bring that knowledge to the Bahamas so Bahamians can benefit," he explained, "Doctors Hospital is committed to supporting and partnering with these new physicians in terms of providing necessary training for our staff and also in terms of getting in any new technology and equipment needed in order for them to deliver this level of care."
The extra effort made was not lost on Keva Ellis.
"It was a Godsend that the expertise was available for my surgery. I am grateful to both Doctors Hospital and Dr Darius Unwala to have had this level of care," she said.