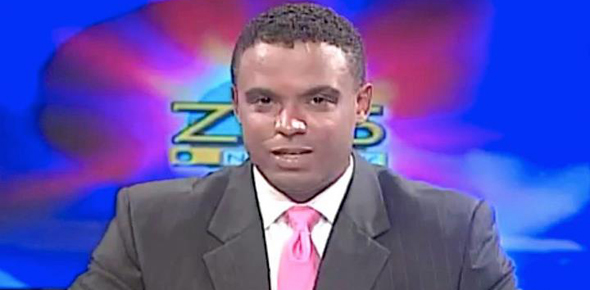 Reported Editorial War and Confusion rests in ZNS Newsroom
Nassau, Bahamas — Breaking news coming into Bahamas Press tonight confirms a reporter has packed up his tent parked in ZNS and has left the Broadcasting Station following a number of editorial wars unfolding in the newsroom of the Corporation.
In a statement circulated to the press and to the editorial pages of BP, Giovanni Stuart has resigned. In a statement posted on facebook the reporter wrote the following:
After seven (7) year tenure and becoming one of the leading figures in broadcast radio and television news in The Bahamas, Giovanni Stuart, has left ZNS, to pursue other private sector media and communications interests.
The following statement taken from his Facebook page: https://www.facebook.com/pages/GiovanniStuart/180671891966383
" I would like to thank my family, friends, peers and fans – the world over – for all of your love, prayers, support, compliments and encouragement… I love You! I am eternally grateful to the Broadcasting Corporation of The Bahamas for the opportunity to serve The Bahamas, through the media arts, nationally and internationally… I still believe ZNS/TV-13 is rich with talent and will one day grow to become the iconic media institution that it was envisioned to be… A beacon of change, hope, information and enlightenment for Bahamians and the global community… As a reporter/anchor, I have always sought to present creative, quality, helpful, balanced, diverse, nonpartisan reports… In a spirit of excellence, *innovation and creativity, I have, where possible, seized the opportunity to highlight the positive contributions and advancements of our peoples, culturally, in the arts, politics, business, sports, sciences, etc… While showcasing the beauty, wonder and charm of our marine-based natural environment… With diligent enthusiasm and a passion to inform, educate and entertain, my mandate remains the same… I will continue to partner with my colleagues, government, nongovernment and private organizations as we collectively promote and transform The Bahamas to meet its true Island Destiny and 21st Century Potential…"
*N.B. Among his innovative contributions to broadcasting, Giovanni Stuart was recently recognized by The College of The Bahamas as the Official pioneer of iReporting in The Commonwealth Of The Bahamas (through the use of computer tablet technology, i.e., the iPad).  Giovanni is one of the first Broadcast Reporters in the World to do so.  WATCH THE NEW T.A.R. STADIUM LAUNCH HERE:~ http://youtu.be/qXoWpqqx5o8