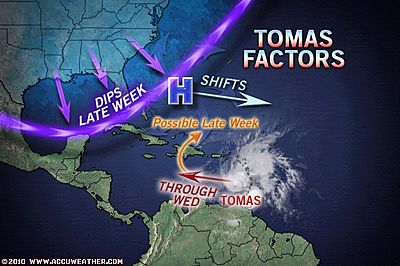 Hurricane Tomas will remain over the open waters of the Caribbean the next few days. However, there is growing concern that Haiti will become its next target.
Tomas tore through the Windward Islands on Saturday, strengthening in the process and leaving a trail of damage.
Conditions will improve across the Windward Islands and southern Leeward Islands today as Tomas moves to the west. Most rain squalls will stop streaming over the islands by tonight.
Tomas will head into the central Caribbean during the next few days, according to the AccuWeather.com Hurricane Center. Its heaviest rain and damaging winds will remain over open water and pose only a danger to shipping interests.
The outer effects of Tomas may impact the central Caribbean Islands and the northern coastline of South America into Tuesday. Rain squalls from Tomas will spread from east to west, potentially grazing these areas. Surf will also turn rough and dangerous for swimmers and small craft.
With Tomas churning over the very warm waters of the Caribbean, rapid intensification would typically be forecast. However, disruptive wind shear (strong winds high in the atmosphere) recently caused Tomas to weaken into a Category 1 hurricane.
Tomas could even weaken to a tropical storm for a time over the next couple of days.
The AccuWeather.com Hurricane Center has the latest statistics on Tomas, including its current location and intensity.
That wind shear will lessen at midweek, opening the door for Tomas to strengthen into a major hurricane with maximum sustained winds of at least 111 mph.
Later in the week, there is growing concern that Tomas will deviate off its westward track and target Hispaniola (the island that Haiti and the Dominican Republic call home). Tomas may even take aim at Hispaniola after first bypassing the island to the south.
As stated by AccuWeather.com Expert Senior Meteorologist Alex Sosnowski, "It would be a horrible scenario if Tomas were to turn to the north and slam Haiti as a hurricane." Haiti has yet to recover from the devastating January earthquake and is now fighting a cholera epidemic.
Tomas will be forced to curve towards Haiti by the jet stream, which is expected to sink southward and usher a reinforcing shot of chilly air across the East later in the week. Another scenario is that Tomas makes that curve, but targets Jamaica or Cuba.
The hurricane would take a track towards Central America if it misses the connection with the jet stream; however, this solution is becoming less likely.
2010 AccuWeather.com Hurricane Center