ANDROS, Bahamas – The Director of Immigration Jack Thompson said the Department of Immigration is satisfied that the authorities in Mangrove Cay, Andros are performing their duties to make the illegal Haitian migrants comfortable, until such time as their repatriation.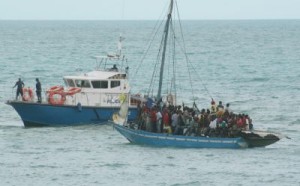 Mr. Thompson has confirmed that there are 152 Haitian detainees who, because of the large numbers, are being housed at the Catholic Centre and at a warehouse at the Mangrove Cay dock.
"We are satisfied that the authorities in Mangrove Cay are performing their duties, to make the migrants comfortable," he said.
They were examined by medical personnel and deemed to be in good health, with the exception of a few who were treated for dehydration.
Mr. Thompson said it is believed that some Haitians might have drowned; hence, a search and recovery effort was launched. However, due to the rough seas, that mission was being challenged.
"We here in New Providence are strategizing on how to proceed. Once the weather subsides, we stand ready to take the appropriate action," he said Sunday, August 26, 2012.
The United States Coast Guard assisted with the use of its helicopter, to   transport two Defence Force marines and two Immigration Officers to Mangrove Cay to assist in the exercise.
The Haitians were apprehended on Saturday, August 25, at Lisbon Cay, off Mangrove Cay, seven days after leaving Cap Haitien, Haiti.