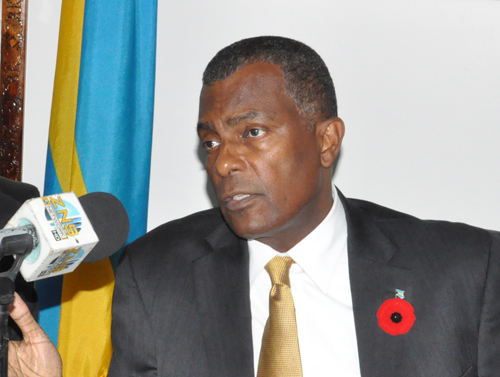 FREEPORT, Grand Bahama – The immigration problem faced in The Bahamas is a continuous one, said Minister of Foreign Affairs and Immigration, the Hon. Fred Mitchell during a press briefing on Friday at the Ministry for Grand Bahama.
He said the country faces issues such as 112 people interdicted on the high seas off Long Island, and this was on the same day that 142 were being repatriated to Port au Prince, Haiti.
"We have a continuous fight and the Immigration Department is doing a good job in trying to police the boarders given the resources that they have and again, I thank the Bahamian public for all the assistance and support they have given.
Turning his attention to another island in the northern Bahamas, Minister Mitchell said Abaco is a difficult and complex issue to deal with because of the way their economy is built. "But what I can say is the public in Abaco has been more forthcoming in cooperating with the Immigration Department and the immigrant community there has been more forthcoming complying with the rules and regulations. They too, want to comply and that's a good thing."
The Minister also mentioned the formation of a new unit within the Department.
"I'm in the process of putting together choosing an officer within the Department of Immigration: we're just in the initial discussions with the Director now, to put a Public Affairs Unit within the Department of Immigration similar to what the Police have in the Royal Bahamas Police Force."
This would put a spokesperson in place to answer questions, meaning it would not always be done at a "political level." He added, "To have a more neutral person to deal with the actual facts on the ground of the things we are dealing with."
This person would deal with the Detention Centre and the awarding of the contract and the redevelopment there.
One year has passed since the new immigration laws have been put in place, and according to Minister Mitchell, "it's worked well and most people have complied with the new rules, and this includes those who have been entering the schools."
Minister Mitchell further stated that the Ministry of Education is doing a review of schools as their extended deadline will end at the end of the year.
"Generally speaking it's worked well," he said, "in terms tightening up the rules and making sure that we have a sense who is actually in The Bahamas, which is what this is all about. It is a plain out and out National Security issue. I'm thankful for the support the Bahamian people have given to the policies."