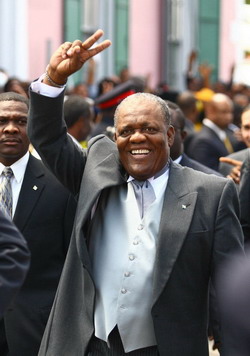 Beijing, China — While Prime Minister Hubert Ingraham was touring the Bird Nest in China with his failed 'Dream Team' and members of outgoing the YELLOW BRIGADE, somehow Bahamians have forgotten that the economy is bad in the country. We hope residents see what we see unfolding right before our eyes. Ingraham and his "YELLOW BRIGADE" is touring the world drinking MIMOSAS as he makes his last lap flying first class at the people's expense in these hard economic times. While auntie Titty in Betsy Bay ain't 'gat' Jack Mackerel and no flour to bake Johnny Bread. He has NO SHAME! HE HAS BEEN MOST NEGLECTFUL, 'HORRIFIBLY' SO!
All this continues at the public expense, while Bahamians suffer and scores of Grand Bahamians walk the line of unemployment and hopelessness. The man who we theme as having ALL BARK, and NO BITE is trekking the world.
A few months ago it was South Africa and yet we await to know what that wasted trip did for Bahamians or what it was all about. We now see LONDON and China, but all we saw happening there were photo opts and Bird Watching. I tell ya, Bahamians are suckers for punishment!
But ya must love Ingraham for his 'VICKED' neglect and Naked abandonment of the Bahamian people! For more than two months now, thieves disrupted communications on the AM dial of 1540; the national station. What did ZNS say: We ga fix it in 30 days. That statement form 'Three Teeth' was early September. Thirty days came and went and what happened at ZNS? We saw a bloodbath, the axing of more than 90 workers and then silence on the 1540 AM band. Nothing was done. Ma'am in Acklins still don't know when Chrissy Love Show is on the air or what the topic is.
Thirty days have since passed [COME AND GONE] and now we hear bandits have stuck again at ZNS copper hot spot, and still nothing has been restored.
Hubert Ingraham could have found $110,000 to trek to China with the "Yellow Brigade" but he cannot find money to restore ZNS 1540AM to the family islands. BOY, WE WUTLESS Eh?
Some old mother in Hatchet Bay Eleuthera, in Riding Rock San Salvador, Old Bight Cat Island or in Abrahams Bay Mayguana is drinking a cold soda, looking outside a window of her home and cannot hear a lick from Nassau. Ma'am don't have internet and she definitely have never seen cable, and there is nobody to tell her Hurricane Tomas is headed her way. WHAT A DISASTER WAITING TO HAPPEN!
But in the midst of all this, where is Hubert Ingraham who told the people of the Bahamas, "I AM FROM THE POOR! FROM THE POOR I CAME!" What does he do about the situation at ZNS 1540am some 60 days later? NOTHING! HUBERT INGRAHAM…ALL TALK, NO ACTION! ALL BARK, NO BITE!
"In fact we note his press statement issued today for the people of St. Lucia while he and his "YELLOW BRIGADE" moves the party onto Barbados. Ingraham's statement reads:
I learned with sadness news of the death of five St. Lucians in landslides caused by heavy rainfall in the wake of Hurricane Tomas which continues to cut a dangerous path through the Caribbean.

We in The Bahamas often find ourselves under the threat of summer storms and hurricanes and know all too well the serious consequences of hurricanes for property and indeed lives.  We stand in solidarity with the Government and people of St. Lucia at this time of terrible loss.

On behalf of the Government and people of the Commonwealth of The Bahamas I express sympathy and condolences to the family of the deceased and to the Government and people of St. Lucia at this time of national loss.
WE NEED CHANGE!