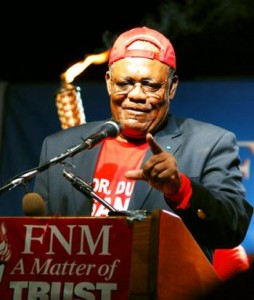 Nassau, Bahamas — It may come as a shock to some and as a bombshell to others as Bahamas Press has now learned there is a hemorrhage of foot soldiers in Party of the late Sir Cecil Wallace Whitfield.
FNM around the country celebrated its converted rise to victory at the polls toppling the once mighty Pindling Progressive Liberal Party. Hubert Ingraham, known at that time as the 'Delivery Boy' and now 'Papa', on August 19th, 1992 sailed into power 18 years ago on the winds of change and with a message of Deliverance.
Readers would remember back in the day after a global recession following the Gulf War, Ingraham was swept into power on a truckload of promises, which matured to the benefit of thousands across the country. Ingraham opened the airways – his greatest achievement – giving Bahamians across the length and breadth of the country the freedom to speak their mind [Now the Tribune and The Pillsbury Doughboy wants to change that]. With that single achievement Ingraham opened enterprises and developed scores of new opportunities in broadcasting.
One cannot forget the FNM's 1992 – 2002 startling legacy of massive capital development works, which saw the construction of more than 10 new public schools, 5 clinics, and new Ministry of Education, Health and Customs buildings.
The nation saw the start of the country's largest road and infrastructure program commenced under the FNM's watch. We saw the strengthened equal opportunities for women, the bold delivery of the minimum wage, which also balanced the steadfast dip in unemployment numbers all across the Bahamas.
Hubert Ingraham brought Atlantis to the country, which today is the second largest employer. With Ingraham, during that period, we saw greater airlifts to the Bahamas. We saw more cruise passengers arriving at ports of call throughout the islands.
Following the 1992 win, we saw a revival of Grand Bahama, 'FNM COUNTRY', with major investors landing in the nation's second city.
By the end of Ingraham's first team in office Bahamians possessed the jealous need to keep Ingraham in office for another term. He worked hard and tirelessly for the growth and development of the Bahamian people. By the end of his term in 2002 his accomplishments were glaring, outstanding, ambitious, and bold, which had left an indelible mark on the Joshua generation.
Today the Bahamas is a different place under Hubert Ingraham, with tensions are mounting deep into the roots of Sir Cecil Wallace Whitfield's Party. Sources now on the ground inside the organization tell us a movement is organizing to find new blood to lead the FNM. What could be the reason[s] for this sudden assault to remove Ingraham as Party Leader? Find out in Part 2 of 'The Dissident Five Emerge' only on Bahamas Press.