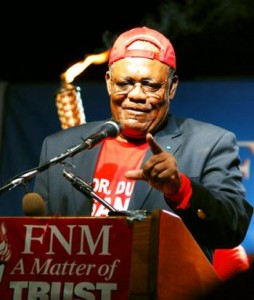 Nassau, Bahamas — Hubert Ingraham told those attending the opening of LPIA he is attempting to transform the City of Nassau into a place that is "SAFE".
Is the Prime Minister aware that some 204 persons have been murdered in cold blood in this same community since 2009?
What he has done to make Nassau SAFE? He has left in place for five [5] years the same WUTLESS minister of national security at the helm of the post. THEY HAVE NO DAMN SHAME!
Livingstone Taylor, the accused murderer of the Cates woman in Rocks Sound, Eleuthera didn't show up for court today. Some 18 witnesses stood in awe as the murderer accused was a BIG NO SHOW!
This criminal has no ankle bracelet and is now on bail to kill the witnesses.
WHAT A JOKE these CRIMINALS ARE MAKING OF OUR SYSTEM!