Loretta Butler-Turner boycotts Ingraham's stage handover – Ingraham attacks female professional ZNS journalist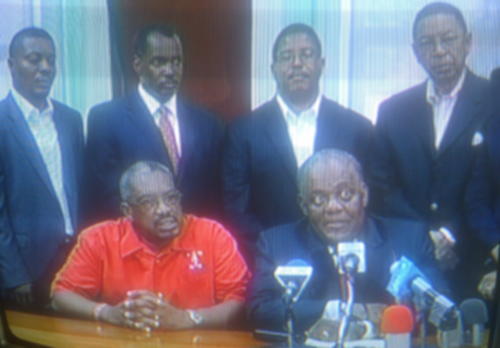 Nassau, Bahamas — Hubert Ingraham left the political spotlight today and what a sight it was. Flanked by his few supporters, the man known throughout the campaign as Papa Clown tendered his resignation letter to the Speaker and later held a press conference with members of the media.
The tone was combative, angry, raging and even sometimes insulting to reporters who asked question after question of the former Prime Minister and leader of the FNM who was resoundingly rejected in the May 7th General Elections.
Ingraham made his last dance by telling the public he will return to the House on July 25th to make a member statement, an about-faced move after BP reported that his failure to do so would leave him as the second leader of the Bahamas to leave in that manner.
The first to do so was Sir Stafford Sands, leader of the UBP, who vowed to never sit under a Black-led government. Sands packed his bags and left town and died living up to that vow.
On the evening of May 7th, former Prime Minister Ingraham told the nation he too would not take his seat in the Parliament, but now he will. In fact, following the opening of Parliament when he vanished like a hologram, Ingraham told NB12 that was his last day in the Parliament. But who believes him anymore anyway?
Today, the FNM leader proved he was still in control of the Party as he promoted his candidate for North Abaco, Greg Gomez, the young man who only returned to live in the country last year August. BP confirmed Gomez is Ingraham's choice to replace him, and no decision by FNMs – who are now deeply divided over the issue, by the way – can change that choice.
Meanwhile Loretta Butler-Turner boycotted the Ingraham's letter handing event. The Long Island MP we know is not ready to work with Ingraham behind the scene political comeback.
What is this?
Meanwhile, Ingraham scolded the Terlet Paper suggesting that they had a planted story in the paper announcing that the FNM is divided. But how did Mr. Ingraham know that the story was planted and is he a craftsman of that 'PLANTING TRADE'?
Guess we will never know!
Goodbye and Good-Riddance Papa Clown!
We report yinner decide!