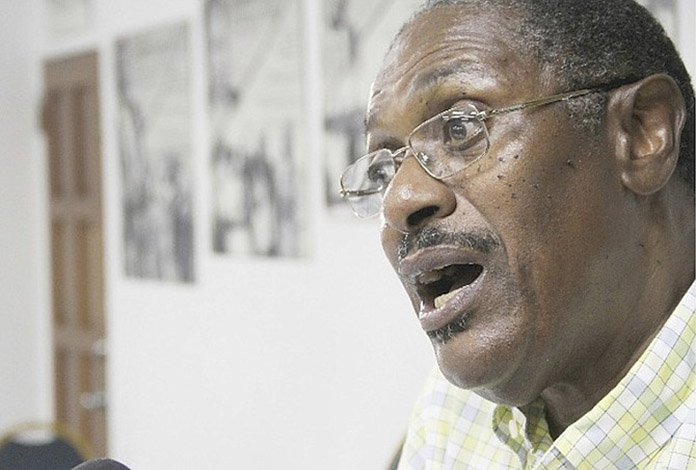 COMMENTARY BY BRADLEY B. ROBERTS
FORMER CABINET MINISTER AND MP
22ND JULY 2018
It is no secret that my garbage bin remains open to this day and I recently found information of significance and great interest to the Bahamian public. Perhaps the Deputy Prime Minister and Minister of Finance can shed some light on and offer clarify on this troubling development.
What Bahamian owned Airline Company is in huge arrears to the (NAD) Nassau Airport Development Company and is sinking faster than bricks in quick sand? What Bahamian owned airline owes hundreds of thousands of dollars to NAD and is on the verge of having its operating license terminated because of failure to pay off a large balance that had accumulated over a period of time? 
Information reaching me indicate that Sky Bahamas Airlines Limited, the airline in which Peter Turnquest has significant financial interests, has accumulated taxes, leases and operating fees in excess of Six Hundred and Twenty-One Thousand Dollars and faced the termination of its operating license if some Two Hundred and Thirty-Nine Thousand Dollars were not "remitted" to NAD by 11thJuly 2018. If not paid, Sky Bahamas will no longer be allowed to operate within the LPIA terminals. Repeated attempts by NAD to collect these funds have fallen on deaf ears. 
Needless to say, this deadline has passed and Sky Bahamas remains operational with all signs erected so I am constrained to ask if Peter Turnquest's company has paid its bills?
NAD falls under the portfolio of the Minister of Tourism Dionisio D'Aguilar. Has Minister D'Aguilar taken the necessary steps to terminate the operating license of Sky Bahamas for bill ducking if these sums remain unpaid pursuant to Article 9 of the agreement? Has the Minister of Finance and Deputy Prime Minister conspired with the Tourism Minister to politically interfere with the work of NAD to protect Turnquest's personal business interests over the public interest?
IF SO THIS IS RANK AND CORRUPT ABUSE OF POLITICAL POWER AND THE PRIME MINISTER MUST INTERVENE, BUT THEN AGAIN, THIS IS THE BIG BAD FNM WHO BELIEVE THEY ARE ABOVE THE LAW.
Bahamians remember very well that within the 2017/2018 national budget, Minister of Finance K. Peter Turnquest gave duty free concessions on maintenance parts for aircrafts that are Bahamian owned and registered in the Bahamas in addition to giving his company a big fat lease contract from a government corporation. One year later within the 2018/2019 national budget, Minister Turnquest gave duty free concessions on helicopters and airplanes. Was this decision made to give duty free concessions to aid Sky Bahamas that is in deep financial problems and cannot pay its bills owed to NAD?
Peter Turnquest gave himself and his business interests every opportunity for success by feathering his nest while saddling a VAT increase to 12% on the backs of poor Bahamians and vigorously defended this decision in the church and at school graduation ceremonies. For the past year, Turnquest was over the place in righteous indignation – accusing others of mismanagement, corruption, stealing public funds and bill ducking.
On the issue of VAT payments, I have another pertinent question for the Finance Minister and DPM: Is Sky Bahamas up to date with its VAT payments to the Department of Inland Revenue? I know the airline is collecting huge sums of VAT money from the travelling public but is Peter's company turning these funds over to the government as required by law?
I hope for Peter's sake that the proverbial chickens have not come home to roost.
Some unsolicited advice for Peter Turnquest. The role of government is to use the instruments of the state to improve the lives of the general citizenry and not to protect a select politically connected and powerful few.