Bahamas WINS Mens 4X400m relay in London tonight!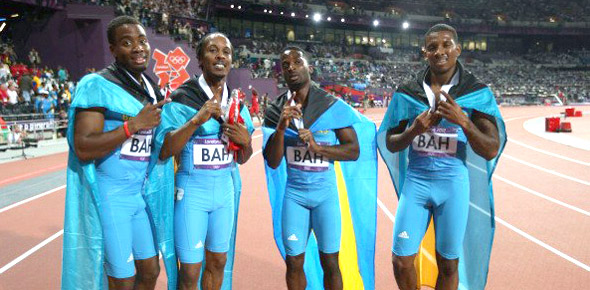 London — The mens 4X400m relay team delivered the Bahamas its first taste of London Gold at the 30th Olympic Games tonight.
The mens relay team were the favorite going into the games after much disappointment. Chris Brown, Michael Matthieu, Demetrius Pinder and Ramon Miller ran this afternoon becoming the strongest men in the race.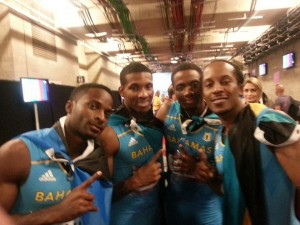 We at BP were in prayer all today having skipped meals to pray for success. The race was stunning as Miller ran down the American and crossed the finish line at 2:56:72.
It is the first Gold medal for the Bahamian men in any race and the first for the country at the historic games.
Finally the boys got what they wanted after seeking the Gold since 2000.
Chris gets his first Olympic Gold. Boy Chris, we are happy for you!
Men's 4 x 400m Relay Final Results:
Participants React. Result
Bahamas 0.163 2:56.72
United States 0.181 2:57.05
Trin & Tobago 0.231 2:59.40
Great Britain 0.167 2:59.53
Russia 0.191 3:00.09
Belgium 0.165 3:01.83
Venezuela 0.174 3:02.18
South Africa 0.185 3:03.46
DNF Cuba 0.163
GOLD GOLD GOLD!!!!! The Boys are back!
We report yinner decide!