GENO D Bring out that GOLD RUSH song again! – WE ARE "NUMERO UNO"!!!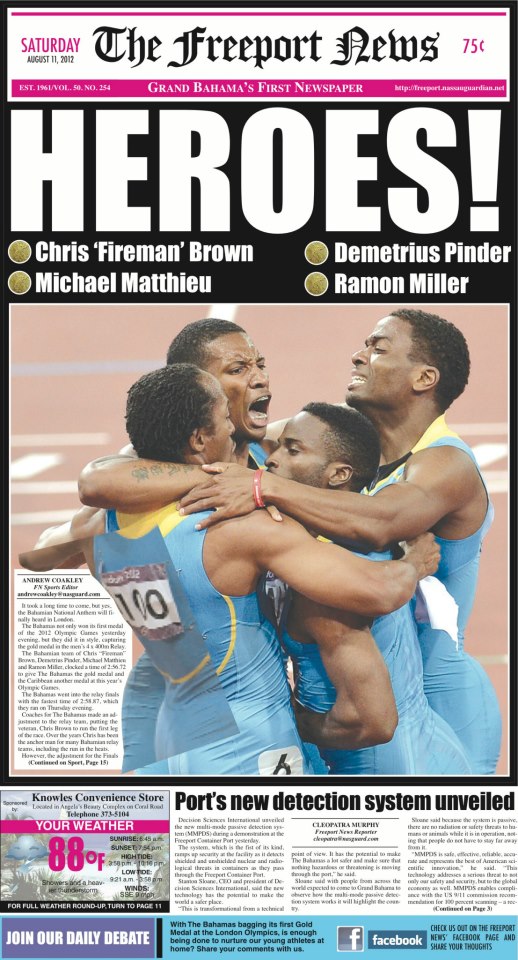 By Tom Fordyce BBC chief sports writer at the Olympic Stadium
London, UK — Great Britain's 4x400m relay men missed out on an Olympic medal by 0.13 seconds as the Bahamas took a surprise gold from the USA and Trinidad and Tobago.
Anchorman Martyn Rooney ran a storming final leg of 44.1 seconds but could not quite close in to snatch bronze.
Dai Greene, captain of the British athletics team, had come in to replace Nigel Levine from the quartet that qualified from the heats.
But his third leg of 45.5 seconds may bring that decision into question.
Conrad Williams's 45.0 had Britain in fourth after the first leg before Jack Green's 44.8 maintained that position.
Bahamas anchor leg Ramon Miller held off Angelo Taylor to set a new national record of two minutes 56.72 seconds, with the US clocking 2:57.05 and Trinidad and Tobago 2:59.40.
This was not an American team to bear comparison to the great quartets of old, a reflection of the fact that not a single US male made the final of the individual 400m.
Bryshon Nellum, Joshua Mance and Tony McQuay are not in the same class as injured LaShawn Merritt and out-of-form Jeremy Wariner, while anchorman Taylor is a 400m hurdles man past his best.
But that should take little away from the achievement of the Bahamas.
Chris Brown led them off with a fine 44.9 secs before Demetrius Pinder produced a brilliant 43.5. Michael Mathieu's 44.25 maintained the lead before Miller's 44 secs dead brought them home to gold.
South Africa's quartet, anchored by double amputee Oscar Pistorius, finished eighth, with Cuba were last after failing to finish.