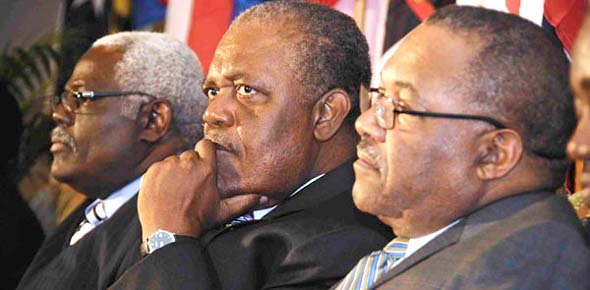 Oswald Brown

Oswald Brown Writes
There can no longer be any doubt about the hatred which Prime Minister Hubert Ingraham apparently holds for the residents of Grand Bahama, if what fired Minister of Housing Kenneth Russell said at a press conference on his return to Grand Bahama on Friday afternoon is true.
Russell confirmed that a project planned for East Grand Bahama was turned down four times by Ingraham, and if I'm correct in assuming that the project in question is a major hotel development planned for Barbary Beach, then it is absolutely disgraceful that Ingraham would have extended his personal feud with Sir Jack Hayward to this level.
Can you imagine what impact this multi-million dollar project would have had on Grand Bahama's ailing economy? By now that project would have been completed or very near completion, which would have meant that hundreds of Grand Bahamians would have been gainfully employed and the unemployment rate in Grand Bahama would be no way near the estimated 25 percent it currently is.
But because of a major differences of opinion with Sir Jack Hayward, one of the principal owners of the Grand Bahama Port Authority (GBPA), Ingraham launched a personal war against Sir Jack and the refusal of permission to allow the Barbary Beach hotel complex to get started appears to have been one of the weapons he used in his personal war against Sir Jack.
Of course, the most damaging decision that he made aimed at hurting Sir Jack and the GBPA was the denial of a work permit in December of 2009 to Hannes Babak, the then chairman of the GBPA. Following the death of Edward St. George, who was an equal partner with Sir Jack in the ownership of the GBPA, St. George's widow, Lady Henrietta St. George, and Sir Jack agreed that Babak was the best person to continue the remarkable job Edward St. George had done to lure big-time investors to Freeport.
But for purely personal petty reasons, Ingraham announced that Babak's work permit would not be renewed during a press conference held at the Sir Lynden Pindling International Airport shortly before he left for a conference in Europe. Indications that this may have been a spur-of-the moment decision surfaced when it was reported that the then Minister with responsibility for Immigration, Branville McCartney, knew absolutely nothing about Babak's work permit not being renewed.
Further evidence of Ingraham's disdain for residents of Grand Bahama is reflected in his decision to discontinue nightly broadcasts of ZNS-13 news from Grand Bahama for the totally ridiculous reason that the $70,000 annually to continue the broadcasts was too costly. When you consider the fact that this is less than the annual salary of a member of his over bloated cabinet, then the conclusion can easily be reached that this decision was yet another arsenal in his war against Sir Jack, with the given objective being to diminish the importance of Freeport as the second most populous city in The Bahamas.
Although the shabby manner in which he treated Kenneth Russell today may not have been a part of his organized plan to downgrade the importance of Freeport, it is nonetheless undeniable evidence that he does not particularly like residents of Grand Bahama.
This being the case, how can he possibly expect FNMs in Grand Bahama to support his personal choices as candidates for the FNM in the next general election. We will just have to wait and see how FNMs, particularly in Kenneth Russell's stronghold in East Grand Bahama, react to the candidates that Ingraham will attempt to push down their throats.
It will certainly be interesting to see the end results of this intriguing chain of events, in the aftermath of the Gestapo-like treatment of Kenneth Russell, who was one of Ingraham's closest allies in the FNM government.
Indeed, on his arrival in Freeport this afternoon after being fired, Kenneth Russell had this about Ingraham's decision to fire him: "If he can do this to me, he can do it to you; he (Hubert) thinks he is God, but I have God on my side."