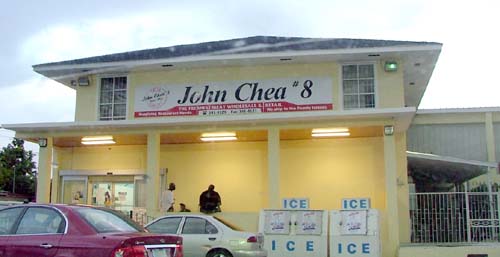 Nassau, Bahamas — Breaking News HAPPENING RIGHT NOW <<< BP is reporting the sudden closure of John Chea #8 in Western New Providence [ Carmichael Road ].
The store was robbed tonight shortly after 7:30 pm. Two men entered the establishment pointing handguns and demanded cash on shoppers. They got away with an undetermined amount of cash.
The incident shook up staff and patrons who were shopping of the weekend following the end of the month payday – Residents are warned to be vigilant of their surrounding and avoid travelling with large sums of money.
DEBT CARDS ARE THE WAY TO GO THIS HOLIDAY!
Guns drawn to kill young Bahamians!
Police are investigating a shooting incident that has left two (2) males, ages 17 and 18 years in hospital.
The incident reportedly occurred around 7:30 pm on Friday.
Preliminary reports indicate that the victims were standing outside a business establishment on Augusta Street off Poinciana Drive, when occupant(s) of white Nissan Sentra shot them.
One of the males received a gunshot injury to the foot and the other to the arm.
They were both taken to hospital via EMS personnel where at present they detained in stable condition.
Police are investigating and are appealing to members of the public who may have any information regarding this incident to contact police.