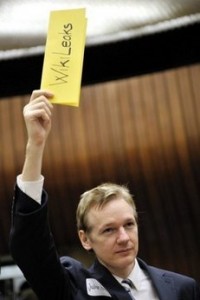 By CASSANDRA VINOGRAD and RAPHAEL G. SATTER, Associated Press Cassandra Vinograd And Raphael G. Satter, Associated Press –
LONDON – A British judge jailed WikiLeaks founder Julian Assange on Tuesday, ordering the leader of secret-spilling website behind bars as his organization's finances came under increasing pressure.
Assange showed no reaction as Judge Howard Riddle denied him bail in an extradition case that could see him sent to Sweden to face allegations of rape, molestation and unlawful coercion.
Assange denies the accusations and has pledged to fight the extradition, while a spokesman for his organization said the U.S. diplomatic secrets would keep on flowing — regardless of what happened to the group's founder.
"This will not change our operation," Kristinn Hrafnsson told The Associated Press ahead of Assange's hearing. As if to underline the point, WikiLeaks released a cache of a dozen new diplomatic cables, its first publication in more than 24 hours.
Assange appeared at before City of Westminster Magistrates' Court in London after turning himself in to Scotland Yard earlier Tuesday, capping months of speculation over an investigation into alleged sex crimes committed in Sweden over the summer.
Assange and his lawyers claim that the accusations stem from a "dispute over consensual but unprotected sex" in Sweden in August, and have claimed the case has taken on political overtones. Swedish prosecutor Marianne Ny has rejected those claims.
Riddle asked the 39-year-old Australian whether he understood that he could consent to be extradited to Sweden. Assange, dressed in a navy blue suit, cleared his throat and said: "I understand that and I do not consent."
The decision to fight the extradition could be difficult. Extradition experts say that European arrest warrants like the one issued by Sweden can be tough to beat, barring mental or physical incapacity. Even if the warrant was defeated on a technicality, Sweden could simply issue a new one.
Assange's website, meanwhile, came under increasing financial pressure Tuesday — with both Visa and MasterCard saying they would block payments to the controversial website.
In a statement e-mailed to The Associated Press, Visa Inc. said it was taking steps "to suspend Visa payment acceptance on WikiLeaks' website pending further investigation into the nature of its business and whether it contravenes Visa operating rules."
MasterCard sent a similar statement, saying it would suspend payments "until the situation is resolved."
The move chokes off two important funding avenues for WikiLeaks, a loosely knit group of activists who rely on individual donations to fund their operations.
PayPal Inc., a popular online payment service, has already cut its links to the website, while Swiss authorities closed Assange's bank account on Monday, freezing several tens of thousands of euros, according to his lawyers.
WikiLeaks is still soliciting donations through bank transfers to affiliates in Iceland and Germany, as well as by mail to an address at University of Melbourne in Australia.