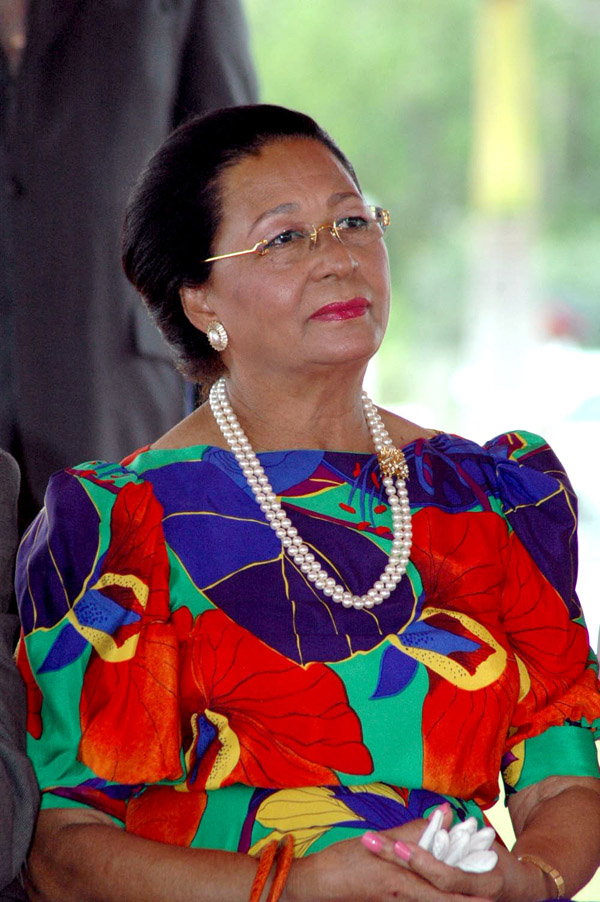 <<< Lady Marguerite Pindling, widow of former Prime Minister Sir Lynden Pindling, speaks out at party council meeting.
Nassau, Bahamas — Slamming hard her party and taking a pledge to fight once again for the Bahamian people, Lady Marguerite Pindling, widow of former Prime Minister Sir Lynden Pindling, told members of the Progressive Liberal Party that she is prepared to fight for the Bahamian people once again. Her comments came during a heated party council meeting on last week Thursday.
Putting on her swagger Lady Pindling asked what was the party doing to rescue the Bahamian people from the calamities that have now fallen upon them? "Where is the PLP?" she asked party members.
"What are we doing? Where is the PLP in all this? Are we rolling over and playing dead in silence against the people who stood up straight in this country?"
"We have to fight and stand strong! We don't need any weaklings, not now, too much is at stake, the FNM has lead this country for the past two years to hell on a one way ticket!" she said receiving applauds from the audience.
Signaling a possible run in the next general elections, Lady Pindling told officers gathered at Sir Lynden Pindling Centre, "I had to come [out] and fight, cause I do not recognize this party anymore. I am ready to fight and I am ready to win!" she added.
Churning her message in the packed room like the former father of the nation, Lady Pindling added that if Hubert Ingraham can came out of retirement so can she.
"Mr. Leader, I am ready to march and fight when you are…..did you hear me Mr. Leader!?" she said turning to Perry Christie. The offer brought loud screams and applauds by party officials.
Sir Lynden recently became the target of barrage of editorial attacks by a local morning daily. The articles prompted a protest outside the newspaper paper offices, where threats were made against the Managing Editor.
Politicos inside the PLP believe the editorials have sparked an awaking of the base in the organization, however a source within the party still believes a Christie bid for the office of prime minister – whenever an elections are called – will not be strong enough to beat an FNM machine.
"We have a leadership issue in our party and the words of lady Pindling tonight certainly brought back great memories of how  strong the party was under Pindling," the member said.
Lady Pindling served as the chief political adviser to Sir Lynden for more than 40 years and is believed to have had a sway on many party internal matters during that period. She has also served as deputy to the governor general under the one term Christie administration.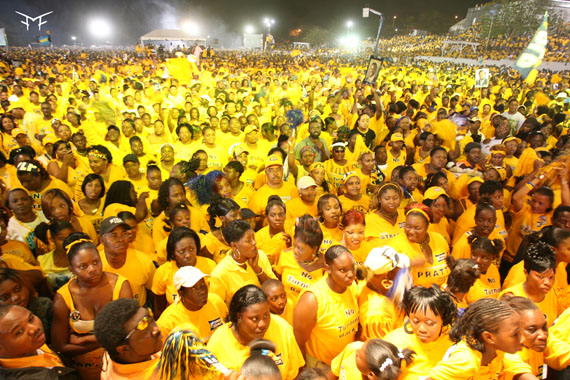 Could the name Pindling appear on the ballot once again? Lady Pindling advises PLP council members that she is prepared to fight against the injustices now being committed against Bahamians under Ingraham's FNM administration. Her comments came during a meeting last week at the party headquarters. Seen in this photo are members of the PLP in a sea of yellow at Clifford Park in 2007. (file photo)