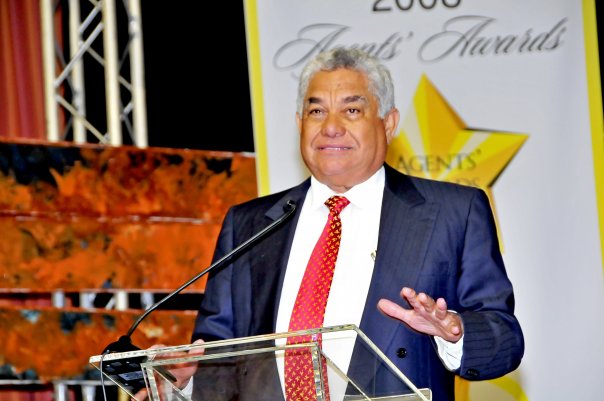 <<<Clico's Chairman and owner Lawrence Duprey, looking pretty and smiling after he STOLE ALL THE BAHAMIAN POLICYHOLDERS MONEY! MY GOODNESS, THE WORLD IS FULL OF TRICKY MEN!!! Below is the persistent President of Guyana Mr. Basdeo Panday as he listens to Ingraham and asks, "Where is my people's money!?"

Bahamas Press has warned since the beginning of this CLICO fiasco that there was plenty money CLICO Bahamas policyholders can go after. But what is the Prime Minister doing to go after his people's money? NOTHING!
And if we at Bahamas Press can expose this company, whose dirty laundry is published in almost every credible publication around the world, why cannot members of the WUTLESS MEDIA in the Bahamas expose these crooks who STOLE OUR SENIORS' MONEY? Here is just something for the Bahamian people to digest on how vast the assets of CLICO's parent company [CL Financial] are.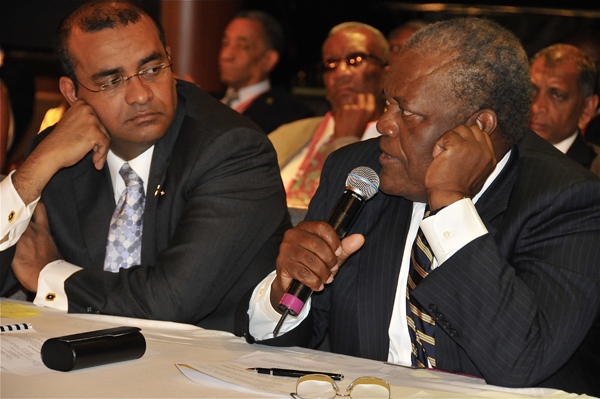 Lawrence Duprey's CL Financial Group created a holding company, CL Spirits Ltd, for its acquisition of Lascelles de Mercado. The deal at close to US$900 million and at US$9.25 a share was the largest seen in the Caribbean.
CL Spirits is 100 per cent owned by CL Financial, which now holds 86 per cent of Lascelles. Lascelles produces US$2 billion in net income annually.
CL Financial also paid US$41.37 million to (J$3 billion) to the owners of Jamaica Money Market Brokers to purchase the Jamaican company's 45 per cent stake in Caribbean Money Market Brokers. The group of more than 70 companies in 32 countries include:
Banking and financial services
• Caribbean Money Market Brokers (CMMB)
• Clico Investment Bank
• Clico Mortgage & Finance Corporation
Energy and petrochemicals
• Clico Energy Company Ltd
• Methanol Holdings (Trinidad) Ltd
• Primera Oil & Gas Ltd
The CL Financial Group owns and operates a methanol plant in Oman and is seeking to establish two more plants in Saudi Arabia and Qatar.
Forestry and agriculture
• Caribbean Resources Ltd
• Clico Agricultural Development Company
Caribbean Resources Ltd is one of the three largest timber operations in Guyana. It holds the logging concession to more than one million acres of forest. Clico Agricultural Development Inc holds more than 2,000 acres of sugarcane fields and other vegetable crops in Barbados making it the second largest farm Group in Barbados.
General insurance
• Colonial Fire & General Insurance Company Ltd
• Clico International General Insurance Ltd (Barbados)
Life insurance
• British American Insurance Company Ltd – LOCATED HERE IN THE BAHAMAS!!!!
• British Fidelity Assurance Ltd
• Clico Holdings Barbados Ltd
• Clico International Life Insurance Ltd
• Clico Life and General Insurance Company (SA) Ltd (Guyana)
• Colonial Life Insurance Company (Trinidad) Ltd
Manufacturing, retail and distribution
• Angostura Holdings Ltd
• Chateauonline SA
• Flavorite Foods Ltd
• Repaire de Bacchus
• Tru Valu Supermarket Ltd

Marine services
• Mariner's Haven
Media and communications
• IETV
• Ebony 104 FM
• Music Radio 97
• Radio 90.5 FM
• VA: A film and video production company
Medical services
• Health Net Ltd
Real estate development
• Clico Property Development Incorporated <<< This is where much of the money went.
• HCL Group of Companies
Associated companies
• Burn Stewart Distillers Ltd
• Caribbean Communications Network Ltd
• CL WorldBrands Ltd
• Republic Bank Ltd
• The Home Mortgage Bank
Now after reading all this do you still think the PM Ingraham should still be telling the people he has nothing more to say to the Bahamian people on CLICO, though he is in Trinidad almost every month? ANY COUNTRY DOING THIS TO THE BAHAMIAN PEOPLE SHOULD FACE THE CONSEQUENCES OF WAR BY THE BAHAMAS ON THAT COUNTRY!
And again we asks, WHY IS PERRY CHRISTIE SO QUIET? WE NEED A CHANGE FROM THESE JOKERS!!!