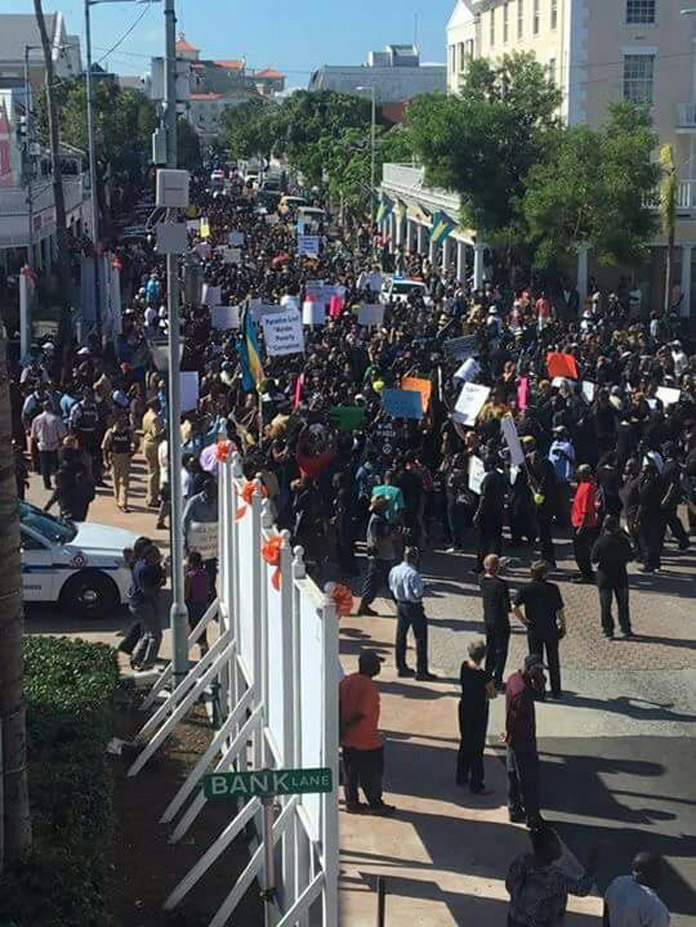 Officers of the court say they will BROKE DA LAW and march contrary to having a permission. Why would people who represent the law do that?
The following is a statement released by Ranard Henfield on December 29th, 2016:
WeMarch Bahamas is a movement inspired by the shared desire of a people to be free of petty politics, political mischief and bad governance amongst other things.
The first demonstration of this collective conviction was seen and felt throughout the Commonwealth of The Bahamas on November 25th 2016 when thousands of hardworking Bahamian mothers, fathers, young people and elders walked peacefully by the thousands to the seat of power to demand change and to strike the first blow at the oppressive and regressive systems that have become entrenched as the status quo.
Over the month of December the planning efforts for the WeMarch January 2017 demonstration have been subject to much redirection, frustration and general political hocus pocus. These petty attempts to subvert the democratic expression of the people have bordered on desperation; from announcing a competing 'political march' to rival the people's march, to arbitrarily switching a holiday observance date from January 9th to January 10th, to now denying the people's four week old request to assemble in Rawson and Parliament Squares.
Despite these distractions, WeMarch Bahamas will not be deterred. Our right to peacefully assemble is a sacred one that has been guaranteed by our constitution and we will not allow ANY government to refuse to hear the Bahamian people's voice or to take our rights away.
The supporters of WeMarch are called to gather with placards and wearing all black for "United People's Day" on Tuesday January 10th 2017 at 10AM from the location to be announced on January 9th. From there, we will peacefully proceed to Bay St. where we will silently occupy the areas surrounding Rawson and Parliament Squares to advance the people's demands for progress and herald the inevitable tsunami of change that is coming to sweep over this Bahamaland.
The WeMarch movement increasingly strikes fear in the hearts of those who seek to maintain the status quo as they slowly awake to the realization that they have no weapon strong enough to hold back a 'freedom movement' that has been born of the people and is energized by a commitment to unity rather than division.
We will stand up for our rights and this 50th anniversary of Majority Rule will witness a 'United People' march without fear of petty politics and political mischief as we demand better governance by the people we put in power.
We ask the church, the business community, the police, the opposition parties and candidates along with the Members of Parliament who place the Bahamian people above party politics to stand with the Bahamian people on January 10th as we exercise our constitutional rights.
Ranard