To whom it may concern, and we hope it concerns everyone.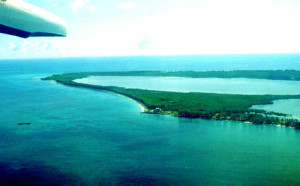 Dear Bahamas Press,
It is a known fact that the crooked RAV Bahamas developers of the Bimini Bay Resort have bribed elected officials to get their way. Some have accepted these bribes, some have not. We can only start to wonder if the Bahamian news media has been paid-off as well, since they have been silent for years about the corruption and lies and destruction that this resort continues to unleash around the islands.
1) Why is the new Fast Ferry now planning to dock at Bimini Bay, rather than at the Government dock in Alice Town, as we were promised? Bimini Bay now plans to create their own Straw Market on their property, hoping to prevent anyone who comes on the ferry from having to leave their resort for any reason!
2) Why is the seaplane still struggling to get safe, easy loading and unloading in Bimini? A Customs officer on the island said that Rafael Reyes, from RAV Bahamas, was to blame for the plane not being allowed to dock at the Big Game Club. Why does Mr Reyes have any say in this matter?
3) Why has the North Bimini Marine Reserve, proposed 13 years ago and declared over 4 years ago, still not been finalized? We have video on YouTube of our elected officials declaring the reserve, yet Bimini Bay still advertises destroying the Reserve and creating a golf course?? We were told YEARS ago this would not be allowed.
4) Why has no one challenged them on the LIES on their website? Ask them for details about their "mangrove restoration" plan, THERE IS NO PLAN, and NEVER was!
5) Why is their construction team almost all non-Bahamian? Do they think Bahamians cannot build homes?
6) Why is their head chef not Bahamian? Every other resort on the island has a Bahamian head chef.
7) Why does the media continue to print their lies about jobs, and the fast ferry, and their commitment to this island? The previous management team told many stories of the Capo and Reyes families total disregard and disdain for Biminites.
8) Have you heard they are now proposing to destroy one of Bimini's most popular shallow reef sites, the Three Sisters rocks? They view Bimini as their own blank slate, and could not care less about this islands future.
9) It is common knowledge here that this fast ferry service they are invested in is just using the Bahamas as a "stepping stone" to get ready for when Cuba opens up. Why does the government allow this country to get used?
10) Why has the MLK Jr Memorial still NOT been finished? There is NO Memorial in the mangroves, yet Bimini Bay hosted an entire weekend-event praising themselves for being so generous as to create one.
Perhaps if the press refuses to do their jobs and investigate the continued corruption of the RAV Bahamas group, the MoT should start advertising the "699 islands of the Bahamas", because these crooked developers are trying to steal North Bimini!
Bimini needs help! Enough is ENOUGH!
Sign,
Concern Resident